Back to andrewdownes.com


Music Education
Resources by Paula Downes, a lot of music by Andrew Downes

---
---
---
Free Video
Here is an animation of Silent Night with a duet version of the song. Enjoy! You can sing along as you watch and then do the activities below. Afterwards, you can learn to play the song by downloading the free sheet music (coming soon) for guitar and piano with lyrics, and since this is also a colouring page, you can colour in all the characters. Finally, you could learn the duet part or compose your own.
0

Save
Watch all our Christmas Carol Videos on one continuous playlist:
Subscribe to our youtube channel:
Lyrics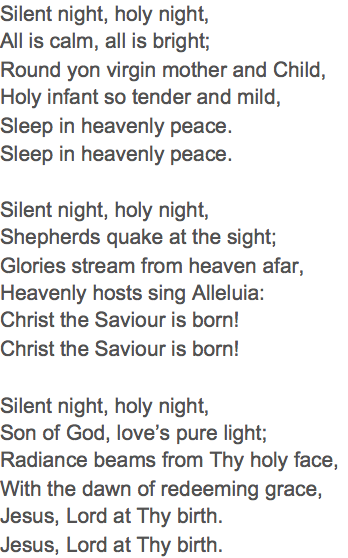 Activities
Act out the song. Either copy the animation or come up with your own version. It is the perfect backing song for the Nativity Play.
This is the perfect song to sing as you rock your child to sleep, or as you put them to bed. It is very calming, particularly on Christmas Eve!
This song can be used in toddler classes or classes with primary aged children to get them to lie down and have some quiet time. You could turn all the lights off and use fibre optic lights to create a beautiful atmosphere. Even better, accompany the song on the guitar and tell the class the history of the song (below).

Design and make a Christmas card based on this carol.



History
This song was written for Christmas 1818 and was first performed to guitar accompaniment at Midnight Mass on Christmas Eve at St Nicholas Parish Church in Oberndorf, a village on the Salzach river near Salzburg in Austria. The song was composed at the last minute because the organ in the church was broken and the church needed music on Christmas Eve. The words by the priest of the church, Joseph Mohr, were originally in German ("Stille Nacht! Heilige Nacht!"), and the tune is by Franz Gruber, the organist of the church.

Home>Christmas Carols>Silent Night


Music Education
Resources by Paula Downes, a lot of music by Andrew Downes

---
---
Back to andrewdownes.com

If you have performed in any of Andrew Downes' works or come to listen, please share your experiences in the Premieres Blog! Also see what others have said. Thank you so much for your contribution.