Back to andrewdownes.com


Music Education
Resources by Paula Downes, a lot of music by Andrew Downes

---
---
The Dancers of Huai-nan
Image from Paula Downes' animation, The Dancers of Huai-nan, based on Andrew Downes' complex song for high voices



On this page you will learn about Chinese music, drumming and dancing; Chinese Festivals; the place Huai-nan; Climate Change and solutions.


First watch the following animation, The Dancers of Huai-nan with music by Andrew Downes:
You can purchase the sheet music for this work here.


Poetry
The poem in this song is a translation by English orientalist and sinologist Arthur Waley (1889-1966), of a poem by Chinese poet (and also astronomer, mathematician, scientist, engineer, inventor, geographer, cartographer, artist, statesman, and literary scholar) Zhang Heng (78–139):

I saw them dancing at Huai-nan and made this poem of praise:
The instruments of music are made ready,
Strong wine is in our cups;
Flute-songs flutter and a din of magic drums.
Sound scatters like foam, surges free as a flood.
And now when the drinkers were all drunken,
And the sun had fallen to the west,
Up rose the fair ones to the dance,
Well painted and apparelled,
In veils of soft gossamer
All wound and meshed;
And ribbons they unravelled,
And scarfs to bind about their heads.
The wielder of the little stick
Whispers them to their places, and the steady drums
Draw them through the mazes of the dance.
They have raised their long sleeves, they have covered their eyes;
Slowly their shrill voices
Swell the steady song.
And the song said:
As a frightened bird whose love
Has wandered away from the nest,
I flutter my desolate wings.
For the wind blows back to my home,
And I long for my father's house.
Subtly from slender hips they swing,
Swaying, slanting delicately up and down.
And like the crimson mallow's flower
Glows their beauty, shedding flames afar.
They lift languid glances,
Peep distrustfully, till of a sudden
Ablaze with liquid light
Their soft eyes kindle. So dance to dance
Endlessly they weave, break off and dance again.
Now flutter their cuffs like a great bird in flight,
Now toss their long white sleeves like whirling snow.
So the hours go by, till now at last
The powder has blown from their cheeks, the black from their brows,
Flustered now are the fair faces, pins of pearl
Torn away, tangled the black tresses.
With combs they catch and gather in
The straying locks, put on the gossamer gown
That trailing winds about them, and in unison
Of body, song and dress, obedient
Each shadows each, as they glide softly to and fro.
TASK: Read the poem through. Look up any words you don't understand. Try to work out what the poem is about. Look up the poet and translator. Present your work to the class.

Haui-nan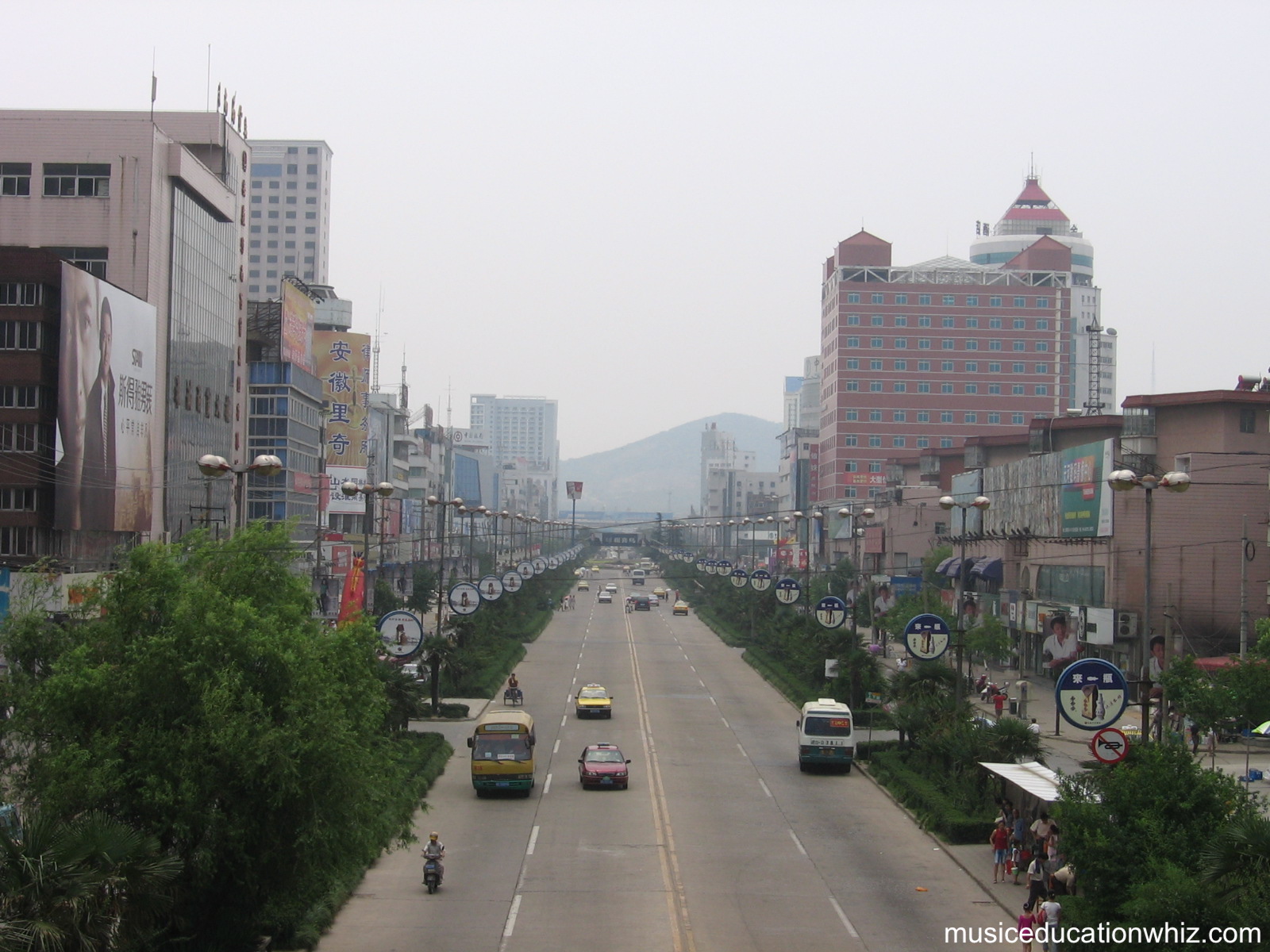 Haui-nan, June 2002
Use google to answer the questions below:

Where is Huai-nan?
What is the main industry there?
Describe the surrounding countryside.
What is on offer for tourists?
When is life said to have begun in Huai-nan and what is the evidence for this?
Describe the history of Chinese Tofu.
Tell us any other interesting facts about Huai-nan


Chinese Drumming
Scroll through the following Blog on Chinese Drumming:



Chinese Flower Drum Lantern Dance
Now read the following from https://www.shenyunperformingarts.org/learn/article/read/item/ou2E60Az3y4/hua-gu-deng-the-flower-drum-lantern'-dance.html

Here are some examples of the types of dance that they do:
Tasks
Create a Chinese-style composition in the pentatonic mode (visit our modes page for help), with rhythmic vitality similar to that of Andrew Downes' 'The Dancers of Huai-nan' to depict the drumming. How will your piece begin? How will it end? What is the structure of your piece going to be? Will there be contrasting sections? Create a dance with ribbons, scarves or umberellas to go with it. Film your work.


Climate Change in Huai-nan

Visit the following web pages to learn about Climate Change and solutions in Huai-nan:

https://www.itv.com/news/2018-11-30/china-takes-small-steps-towards-a-greener-future/

https://www.straitstimes.com/asia/east-asia/floating-solar-farm-reflects-chinas-clean-energy-ambitions


Task
Create a documentary about Haui-nan. You could focus on any or all of the following: tourism, culture, music, festivals, dance, art, climate change.

Music Education
Resources by Paula Downes, a lot of music by Andrew Downes

---
---
Back to andrewdownes.com

If you have performed in any of Andrew Downes' works or come to listen, please share your experiences in the Premieres Blog! Also see what others have said. Thank you so much for your contribution.