Opera
Paula Downes, Jonathan Pugsley and Daniel Sumner in Andrew Downes' Opera, Far from the Madding Crowd, Dorchester, 2006
Principal roles: Bathsheba Everdene - soprano; Gabriel Oak - baritone; Frank Troy - tenor; Mr Boldwood - bass; Bathsheba's Aunt - mezzo-soprano/contralto; Maryann Money - soprano; Fanny Robin - soprano
Small parts and chorus
Dancers
Orchestral Ensemble - minimum 19 players including piano and percussion (no timps)
The world première performances of Andrew's new full scale opera, Far from the Madding Crowd, commissioned by the Thomas Hardy Society for the 2006 Hardy Festival in Dorchester, Dorset, were given to audience and critical acclaim on July 26th, 27th and 28th at St Mary's Church, Dorchester.  A DVD recording was made of these performances, and is available from Lynwood Music. View scenes from the opera. 
To purchase a DVD, click on the link above.
Far from the Madding Crowd was given a second run of performances on August 29th, 30th and 31st 2007 at the Church of St James the Great, Wednesbury.  Funding was provided by the Wednesbury Music Club in celebration of it's 60th anniversary.
The final chorus of the opera, arranged for SATB choir and organ by Andrew Downes, was sung in the Chapel of Trinity College, Cambridge, by ex-Cambridge Choral Scholars, directed by Stefan Reid, at the wedding of Paula Downes and David Trippett in July 2005.
In July 2007 the DVD of the opera was projected on to a large screen in the main lecture hall at Yale University, USA, during the Thomas Hardy Conference there.
The DVD of the opera was used in March 2011 for the presentation of a paper on the adaptations of Thomas Hardy's novel, Far from the Madding Crowd, at  the Universite Sorbonne-Nouvelle, Paris, by Dr Laurence Estanove.
During Andrew Downes' 70th birthday year, the DVD of the opera was broadcast online, on February 10th 2020. To view the DVD on YouTube, click on the link between the title and the grey order form above
An excerpt from Far from the Madding Crowd (Act 4 scene 3) was shown on BBC 1 TV on Thursday May 10th, 2012, and also at the National Film Theatre, London on April 17th 2016.  
Paula Downes, with the Central England Camerata, directed by Anthony Bradbury, performed On the Banks of Allan Water from the opera in a special opera gala concert in aid of Oxfam, in the Foleyan Centre, Oldswinford Hospital, Stourbridge, in August 2014.
In December 2019 On the Banks of Alan Water was again performed by Paula Downes, this time with the Central England Ensemble, directed by Anthony Bradbury, in a 'Music for Sanctuary' concert in aid of the homeless, in Kidderminster Town Hall, Worcestershire.  £2,881 was raised for the Salvation Army from this concert.

Arrangements for Chamber Orchestra by Anna Downes of The Shearer's Dance, The Banks of Allan Water and Harvest Supper, from the opera, were performed in school workshops, and concerts in St John's Church, Hagley, and St James' Church, Wollaston, in July 2012, by the Chamber Orchestra of Oldswinford Hospital School, directed by Anna Downes.  The set is entitled Suite for Chamber Orchestra.
During Andrew Downes' 70th birthday year, the DVD of the premiere performances of the whole opera was shared online on April 25th 2020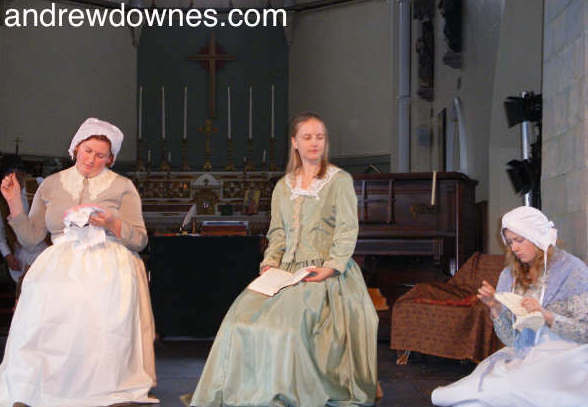 Mezzo Emma Rothman, sopranos Paula Downes & Alison Hill; Andrew Downes' opera Far from the Madding Crowd, Wednesbury, 2007

REVIEWS OF THE OPERA:-
"On July 27th, in the Dorset Echo, Marion Cox wrote of 'this milestone musical work: composer Andrew Downes' score injects all the emotional ups and downs, the passion and the poetry of Thomas Hardy's great novel upon which the opera is based, and in doing so, he has created a rich and lyrical musical feast' Of the libretto by Cynthia Downes, Marion Cox wrote: 'she has tackled the stern task of transforming one art form into another with sensitivity and skill, leaving the core of Hardy's plot intact.' The part of Bathsheba Everdene was taken by Paula Downes, described as possessing a voice of 'appealing lilting quality', whilst Jonathan Pugsley (who took over the major role of Gabriel Oak at two weeks notice) was described as possessing 'an exceptional talent'. Other roles were taken by Daniel Sumner (Mr Boldwood), Simon Walton (Frank Troy), Emma Rothman (Bathsheba's Aunt), Ali Hill (Maryann Money), and Kate Hopkins (Fanny Robin). The orchestra was the Central England Ensemble (led by Anna Downes), and the Musical Director was David Trippett, who 'interprets the lush score with robust grace' (Marion Cox)."  MUSIC JOURNAL OF THE INCORPORATED SOCIETY OF MUSICIANS
'The English composer Andrew Downes is appreciated worldwide for the warmth and integrity of his music, and his strongly individual artistic personality renders his work instantly recognisable. A contemplation of Downes cardinal qualities – touching lyricism, a pungent harmonic gift and a strong rhythmic bite – promised good things for this new opera, based upon one of Hardy's more optimistic novels. Downes' Hardy settings to date have contained some of his most satisfying writing, and there was every reason to suspect that Far From the Madding Crowd would be something rather special. 
'Two weeks in Dorset acting as repetiteur and orchestral pianist gave me a clear perspective of the new work, which was given to large audiences in Dorchester's St. Mary's Church on three consecutive nights. It is a generously and powerfully conceived work, characterised by high spirits and opulent communicative power. Intimate moments of sublime beauty give way to passages of relentless percussive drive which capture the crueller elements of Hardy's rustic vision. The harshnesses and despondencies of the human soul are faithfully mirrored, yet optimism and joie de vivre are here in plenty, captured in music of endlessly fertile invention and with plenty of good tunes. The variety of characterisation in Downes' rich score matches the complex layering of plot and texture which makes the book itself so gripping. 
'The performance was commendably faithful and atmospheric, especially so given the unyielding acoustic of the venue. Of particular interest was the mixture of professional and amateur singers, which had the entirely satisfying and altogether appropriate effect of replicating the very nineteenth century rural gatherings with which Hardy would have been so familiar. Not only was this a charming touch in performance, but it reminded us what such projects as this should be about: throbbing with team spirit and verve.
'All the leading roles were in safe professional hands: Paula Downes brought a delightful purity and coquettishness to her role as the flirtatious Bathsheba Everdene, whilst Jonathan Pugsley, a late substitution as the faithful shepherd Gabriel Oak, projected a warm tone with admirable sincerity and strength. Other fine singers included the bubbly Alison Hill as a bewitching Maryann and the splendid Emma Rothman, whose Aunt was richly and hilariously characterised. Simon Walton was a marvellously declamatory and forthright Sergeant Troy and one admired Daniel Sumner's richness of tone and security of delivery as the ultimately tragic Mr Boldwood. Soprano Kate Hopkins was a perfect choice for the role of Fanny Robin, whose character and poignancy she brought to life with immense sympathy.
'David Trippett directed the Central England Ensemble, an orchestra of much personality. Orchestral playing was strongly projected and muscular, the music itself deeply emotional and richly idiomatic. Ann Nation's costumes were fabulously colourful and the dancing captured the spirit of Victorian Dorset with charming felicity. The libretto, by the producer Cynthia Downes, was economical whilst preserving all the verve and nuance of Hardy's masterpiece.'  Duncan Honeybourne  MUSICWEB and other websites
'The opera deserved the highest accolades.  Andrew Downes' music seems to me apt and inventive at every turn.  Much of the lyrical writing is quite splendid… Downes marries an instinctive feeling for a good tune with real substance in the orchestral argument and texturing.'  Roderick Dunnett, CHURCH TIMES                                                                                                                                                       'This adventurous adaptation of Thomas Hardy's classic novel kept its audience spellbound from beginning to end.' SANDWELL CHRONICLE
'Downes' music is very accessible - drawing upon folk-dance on occasion while in general using much leitmotivic thematic development. Some of his style reminded me of RVW (Andrew studied with Herbert Howells at the RCM in the 70s), but Downes' personal voice did full duty in responding to a demanding range of circumstances - from farm fires and storms to a murder... I was particularly impressed by Downes' orchestration - lots of solo work for the woodwind in particular, which included cor anglais, bass clarinet and contrabassoon - often in dialogue with the singers on stage.  There was also an important part for orchestral piano, which took thematic leads and had a role on its own as a sort of continuo... Act 4 reveals the consequences of Troy's neglect of Fanny when her coffin is opened - this scene was especially musically powerful... Overall a very fine performance, well appreciated by the large local audience present - and all for £5 a ticket - not Covent Garden prices but much better value!' Michael Jones, BRITISH MUSIC SOCIETY JOURNAL  
'Conversion of a novel into an opera sometimes works (as in Of Mice and Men, or Verdi's success with Dumas and Victor Hugo); sometimes, however, it proves dramatically defeating. Conrad's Under Western Eyes (John Joubert), Bronte's Jane Eyre (set by Joubert and Michael Berkeley) and Hardy's The Trumpet-Major (Myfanwy Piper's libretto for Alun Hoddinott) are all modern British operas on the cusp between triumph and failure. 
'Far from the Madding Crowd, a new two-hour opera by Andrew Downes, may be one that succeeds. It was staged in a church setting, at Wednesbury, near Birmingham — highly apt for the funeral scenes, though the action was thus restricted to a slightly limited acting area. One missed any sense of Hardy's rolling Devon countryside: the focus was more on the domestic. 
'Easily the evening's best features were the caliber of Downes's score and the quality of his youthful performers. A former professor at the Birmingham Conservatoire, Downes has an impressive command of his art — of sustaining an extended structure by use of linking motifs; of judging what works dramatically; of orchestration (several of Downes's works have been introduced by the Czech Philharmonic); and of deploying his best ideas without overusing them. 
'The orchestra for this performance, the Central England Ensemble, is a striking young group formed from players fresh out of college. The strings were impressive, as were the sly bassoon for hapless Fanny Robin (Kate Hopkins), the jettisoned lover of caddish Sergeant Troy (Simon Walton), characterized with a single trombone and strings; a piccolo-led repeating phrase like a roll-call from Billy Budd; effective use of a solo horn; and a well-judged piano part (played by Duncan Honeybourne) embedded within the orchestra. 
'Downes sometimes uses traditional melodies, with a haunting medieval underlay. Vocally, the most rewarding performance came from Manchester-trained baritone Jonathan Pugsley as Gabriel Oak, who managed a bit of folk-like piping on a recorder. A distinct feel of Ralph Vaughan Williams (Mr. Valiant-for-Truth, The Pilgrim's Progress) and Britten in places (The Turn of the Screw, Rejoice in the Lamb) added to the intensity and atmosphere of this opera. 
'In Ann Nation's beautifully costumed, attractively blocked staging, Paula Downes, the composer's daughter, brought a fine upper register and cold authority to the marriage-resistant Bathsheba Everdene. Alison Hill scored with her lively characterization and appetizing mezzo quality as the far-from-pliable soubrette, Maryann Money. Downes's present five acts might usefully be compressed into three, but this was an impressive undertaking that deserves to be performed elsewhere, and a patent triumph for young Midland talent.' 
Roderick Dunnett OPERA NEWS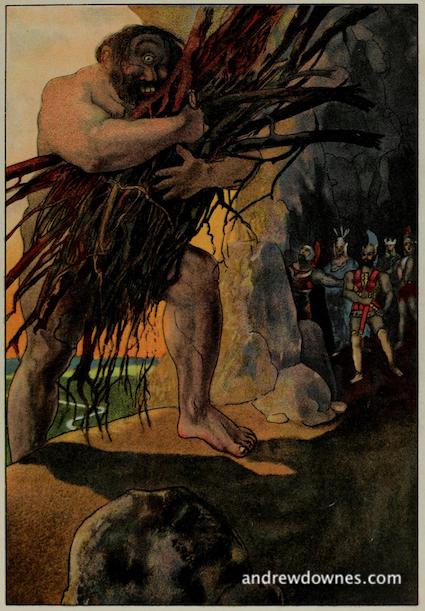 The one eyed Polyphemus by Marshall, Logan, tr

Purchase Downloadable Sheet Music:
(Do contact us if you want us to send you the music through the post instead)

Odysseus and the Cyclops - children's opera in 3 acts for baritone soloist, child soloists and choir, school orchestra, and piano (teacher's part)

Score - sold with a license to print 3 copies
Piano Reduction Score - sold with a license to print 6 copies
Words - FREE
Parts Bundle
Individual Parts
March: "Odysseus and his Men" - arrangement for unison choir and piano, sold with a license to print 30 copies
Interlude 1 - arrangement for 3 part choir and piano, sold with a license to print 30 copies
Libretto by Cynthia and Andrew Downes.
 
Participants:
Polyphemus, the Cyclops --- baritone
Odysseus -------------------- treble
Four Men -------------------  trebles
Odysseus' Men -------------- trebles and altos
Chorus of Elders------------- trebles and altos
Main Choir ------------------- trebles and altos
Piano------------------------- teacher's part
Marching Band -------------- recorders, melodicas, drum, tambourines
Orchestra--------------------- recorders, flutes, oboes, clarinets, bassoons, horns, trumpets, trombones, strings, percussion.

This children's opera was commissioned by the Rugby Schools Music Association with funds made available by West Midlands Arts. The first performances were given in the Temple Speech Room, Rugby School, on 27th and 28th May 1982, by 300 children from 28 Middle Schools in the Rugby area and members of the Rugby Schools Orchestra, with Tom Cowhig as the baritone soloist and Mary Littlemore, piano. The performances were directed by Valerie Brodie and Gwen Proudlock and previewed on BBC Television. 
Subsequent performances have been given by Schools in Hagley, Worcestershire, in St John's Church (2 performances in July 1988) and Windsor High School, Halesowen, West Midlands (2 performances in July 1991).

The choral parts are for children of Middle School age and the instrumental parts also for Middle School age, augmented by more experienced older players.

'A pageant of Myth and Music, a musical possibility for any enterprising and skilled school orchestra and chorus.'
THE TIMES EDUCATIONAL SUPPLEMENT

Read Birmingham Post Review
In the spring of 2020, during the coronavirus pandemic and in celebration of Andrew Downes' 70th birthday year, Paula Downes with her 2 daughters, Persephone and Emilia, and with Andrew Downes singing the part of the Cyclops, created an online video production of Odysseus and the Cyclops, which can be viewed by clicking on the 3rd in the list of links over the grey order form above.
The opera takes as its theme a freely adapted version of the 'Cyclops' story from Homer's Odyssey. The central character is Polyphemus, the Cyclops, who, in the original story, was described as an enormous monster with one eye in the middle of his forehead. In this version, however, he is made to be an ordinary, if tall, human being disfigured by some accident in his past. This slight alteration makes him, in the composer's view, a more dramatically acceptable figure, whose very humanity deepens his tragic situation.

THE STORY: 
PART 1 The crowds await the arrival of the Council of Elders, who are to decide the fate of the unsightly half blind figure of Polyphemus. The Islanders want to be rid of him. Polyphemus rejects the possibility of solitary banishment as being worse then death itself. The Elders suggest using Polyphemus as their protector and guardian of the island: "With his ugliness and strength he will repel any invaders." The islanders like the idea, and proclaim him as their hero and champion. INTERLUDE I - the contented, protected islanders are unaware of Odysseus' army sailing towards them.
PART 2 Odysseus and his army land and make merry in Polyphemus' cave with his food and wine. When Polyphemus discovers this, he rolls a vast rock across the cave entrance thus making them his prisoners. 
The cunning Odysseus gradually gets Polyphemus into a drunken stupor, and when asked his name, replies: "Nobody". When Polyphemus is asleep - swiftly and viciously Odysseus and his men heat up a spear and put out his only eye. He is now blind, but the soldiers still cannot escape from the cave. The Elders, roused by Polyphemus' cries of agony, ask from a distance, if and by whom he has been hurt. He replies that "Nobody" has put out his eye, and they go away, believing that if nobody has hurt him all must be well! Polyphemus is now totally abandoned, and sinks into despair. INTERLUDE II - throughout the night Polyphemus keeps watch over his prisoners.
PART 3 As dawn breaks, the blind Polyphemus lets his flock of sheep out of an inner cave and moves the stone a little to allow the sheep out. Hiding amongst them go Odysseus and his men. Once outside, they taunt him and disappear to safety. Polyphemus now feels a total failure, but the Islanders reappear, relieved that the invaders have been repelled.
They welcome him, acknowledging his total sacrifice, and reassure him of their love and care.



Return to the top of the page
If you have performed in any of Andrew Downes' works or come to listen, please share your experiences in the Premieres Blog! Also see what others have said. Thank you so much for your contribution.