A Child is Singing

Dramatic Cantata about the horrors of nuclear war, for baritone soloist, SATB chorus and piano

PREMIERE:
20th March 1982
Carrs Lane Church Centre, Birmingham

More information on A Child is Singing


Have you performed in this work or come to watch? Please share below!


An account by his wife and publisher, Cynthia Downes, posted on November 17th, 2020


Title and poem 'A Child is Singing' by Adrian Mitchell. Additional words by an anonymous survivor of Hiroshima, and Cynthia and Andrew Downes.

General Giah: baritone
Soldiers and Civilians: SATB chorus


The Musical Times critic, Tony Cross, who was complimentary about Andrew's Cain and Abel, was also the accompanist of the Moseley (Birmingham) - based choir, the Clarion Singers. Tony Cross recommended to the Clarion Singers that they should commission Andrew to compose a work for their concerts for CND and Amnesty International.  Andrew saw an opportunity to create another Dramatic Cantata, for soloists, choir and piano.  He particularly liked Adrian Mitchell's poem, A Child is Singing, which he set as the opening and at the end of the Cantata.  
"A Child is singing
and nobody listening
but the child who is singing
"Bulldozers grab the earth and shower it.
The house is on fire.
Gardners wet the earth and flower it.
The house is on fire.
The houses are on fire.
Fetch the fire engines.
The fire engines are on fire.
We will have to hide in a hole.
We will burn slow like coal.
And a child is singing.
And nobody listening.
But the child who is singing."

At the end of the work Andrew set words from an anonymous survivor of Hiroshima.  
"A glaring, whitish, pinkish light appeared in the sky, an unnatural tremor, followed by a wave of suffocating heat, and a wind swept away everything in its path.  Within a few seconds, the thousands of people in the  streets were caught by a wave of searing heat."
For the rest of the work I again played a large part in creating the libretto with Andrew, as we had done with The Death of Goliath and Cain and Abel.

The Cantata was performed by the Clarion Singers, with Michael Dowding as baritone soloist, Peter Dempsey, tenor soloist, and Malcolm Wilson, piano, directed by Aubrey Bowman and produced by Val Stevens, on March 20th 1982 in Carrs Lane Church, Birmingham. The choir performed the work with absolute conviction, acting their roles with total commitment.   

Subsequent equally riveting performances by the Clarion Singers, with soloists Michael Dowding and Peter Dempsey, took place at Highgate School, Birmingham, in May 1982, Walsall Town Hall also in May 1982, the George Cadbury Hall, Selly Oak, Birmingham, in March 1983, St Martins in the Bullring, Birmingham, in November 1983, Moseley Parish Church in June 1984 and at the Friends Institute for Performing Arts Festival, Highgate, Birmingham, in October 1991.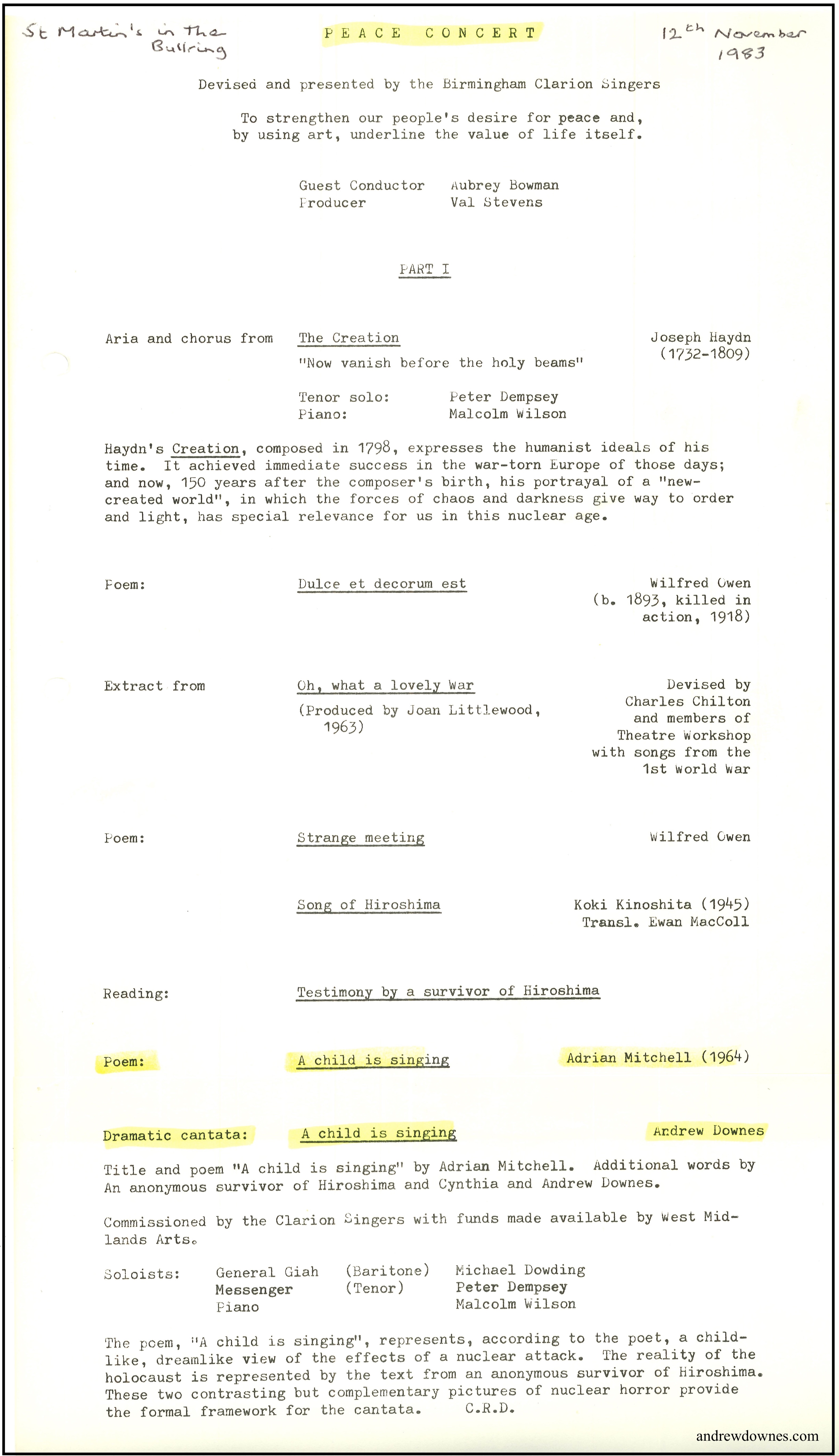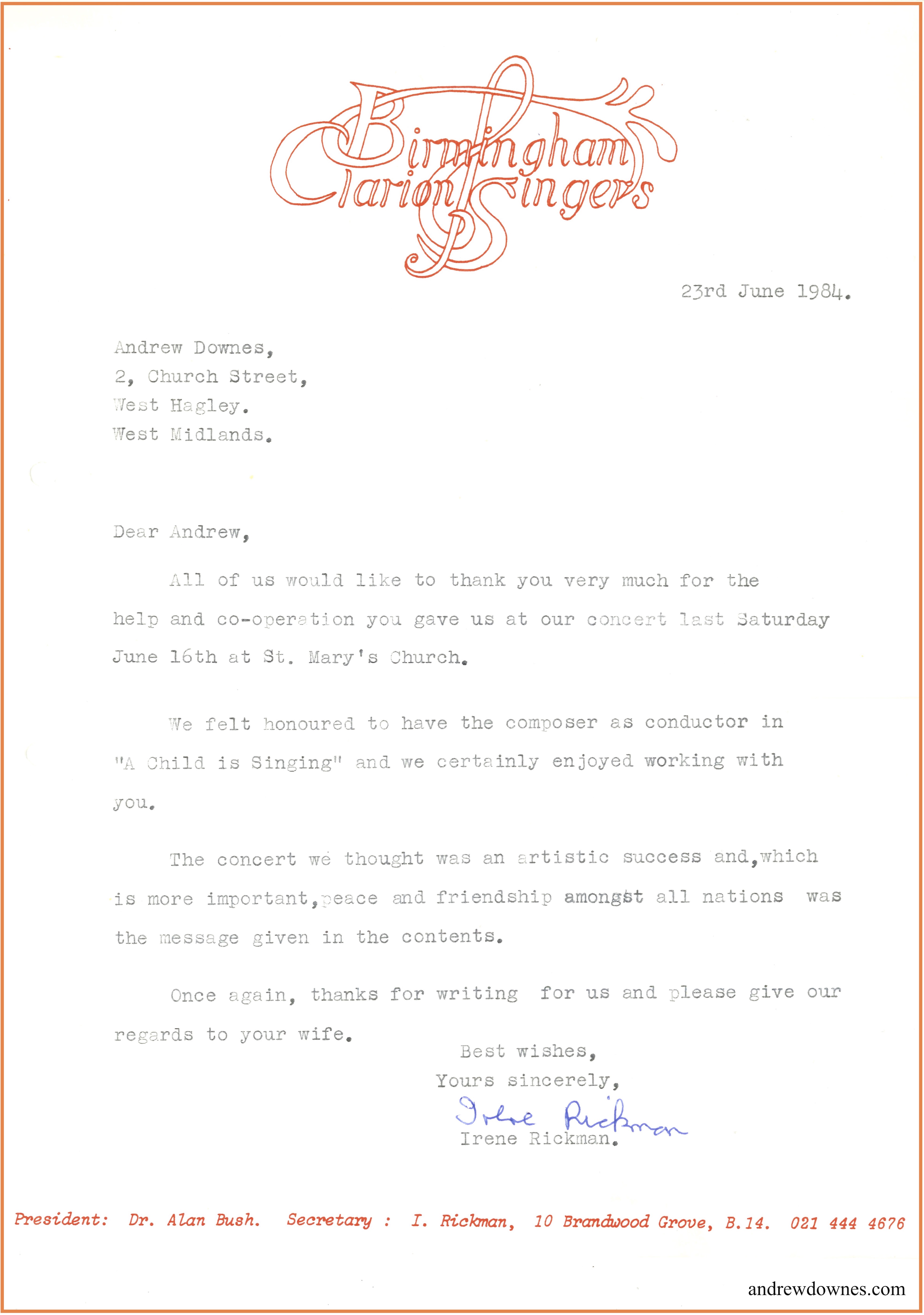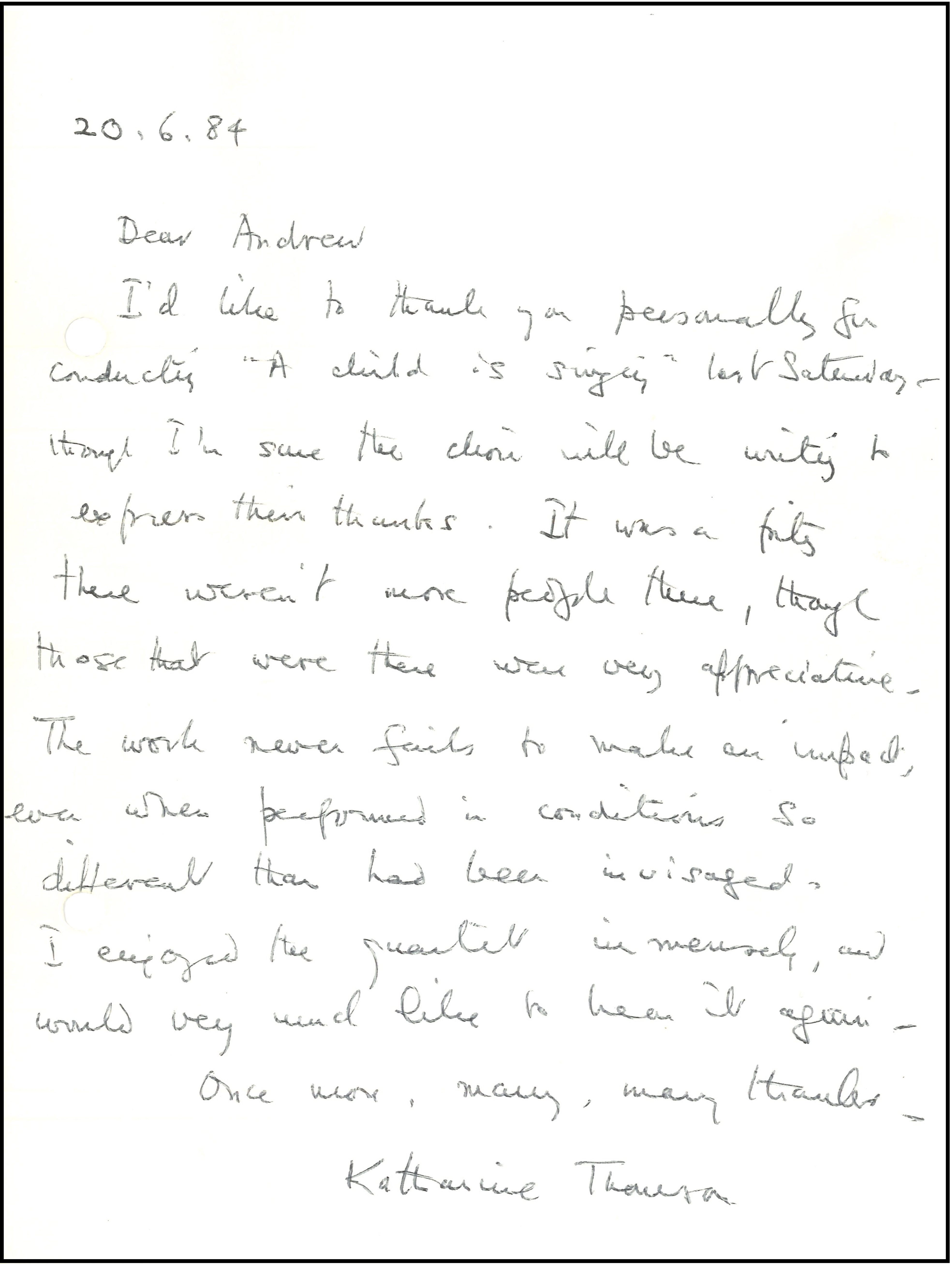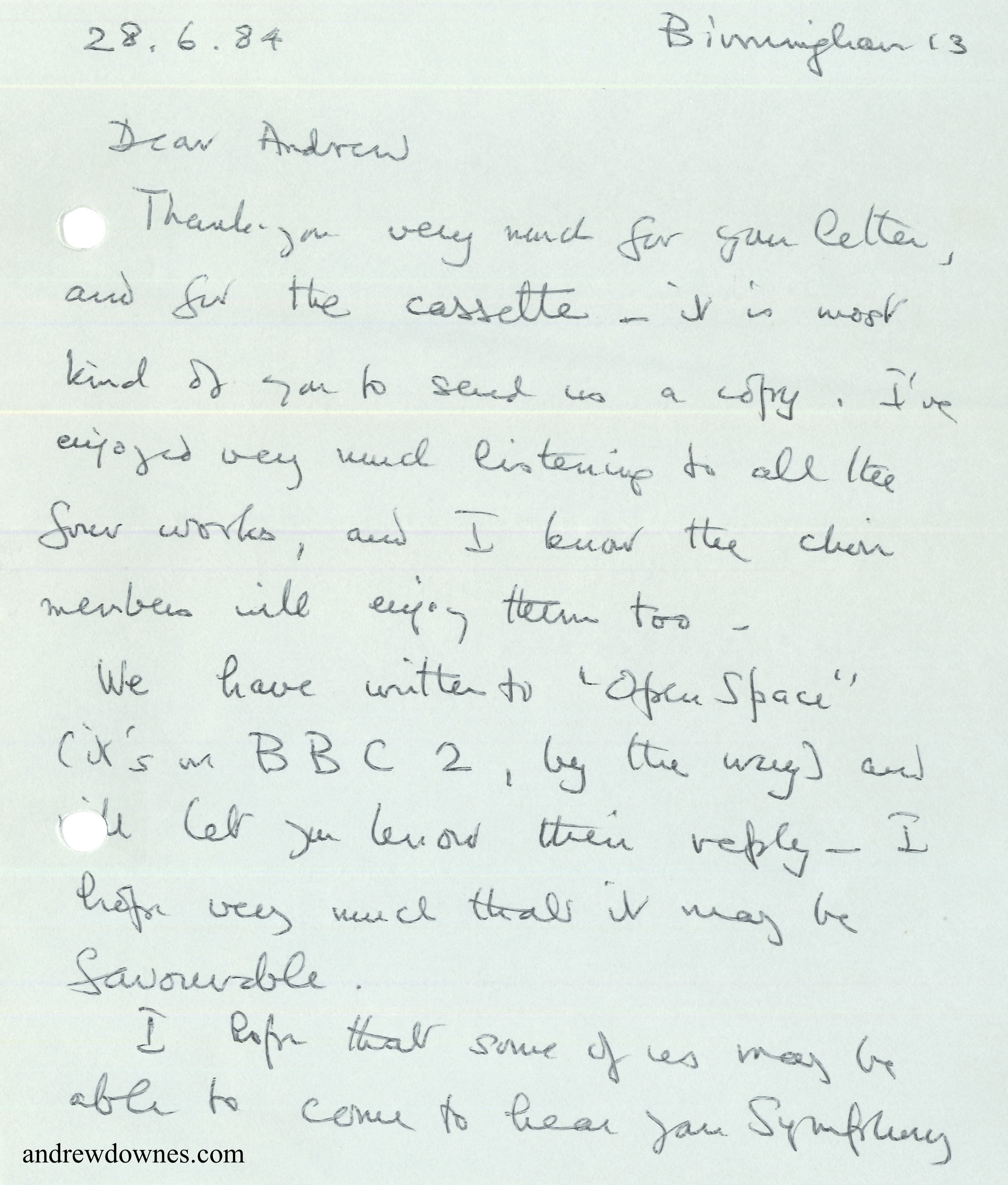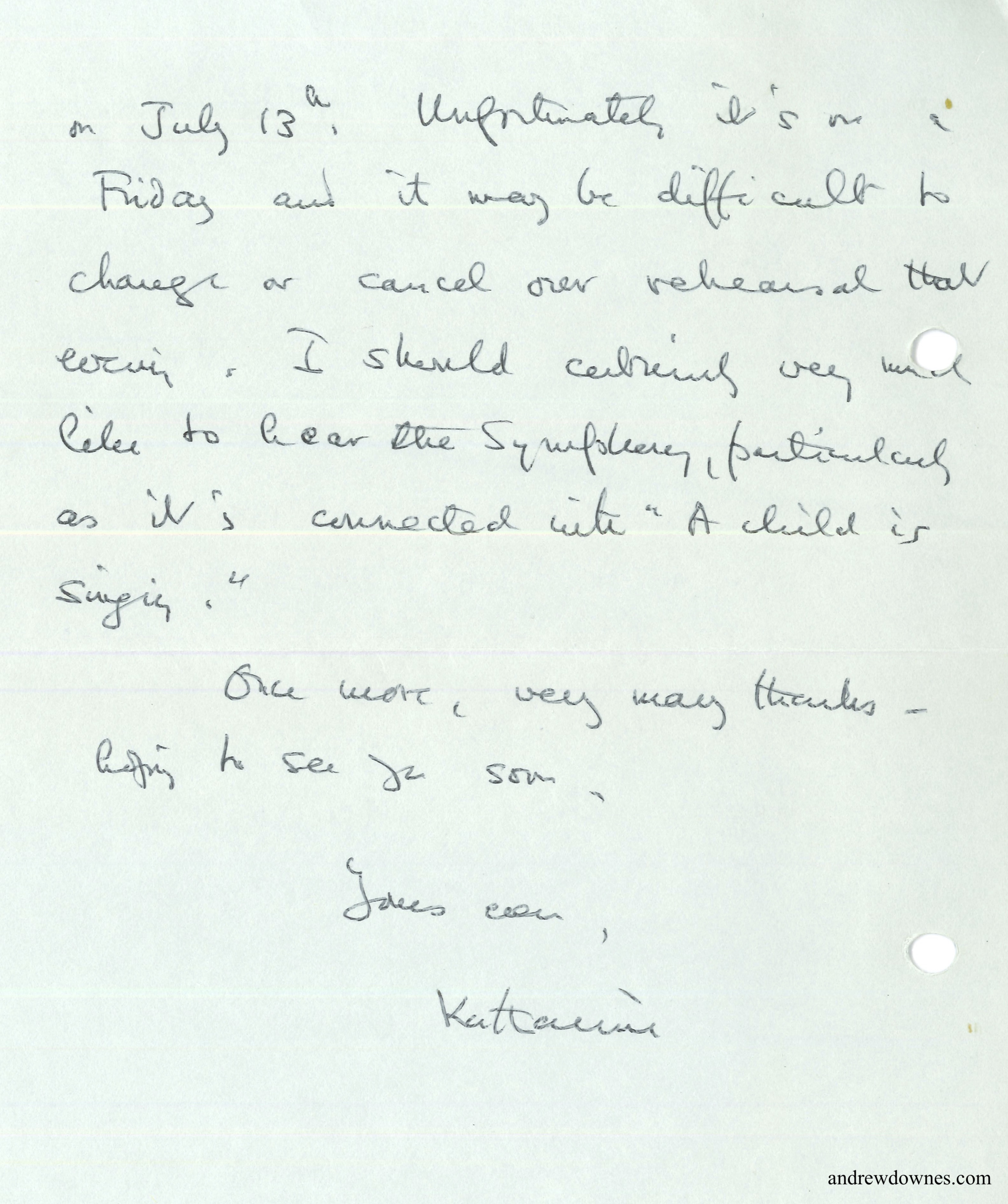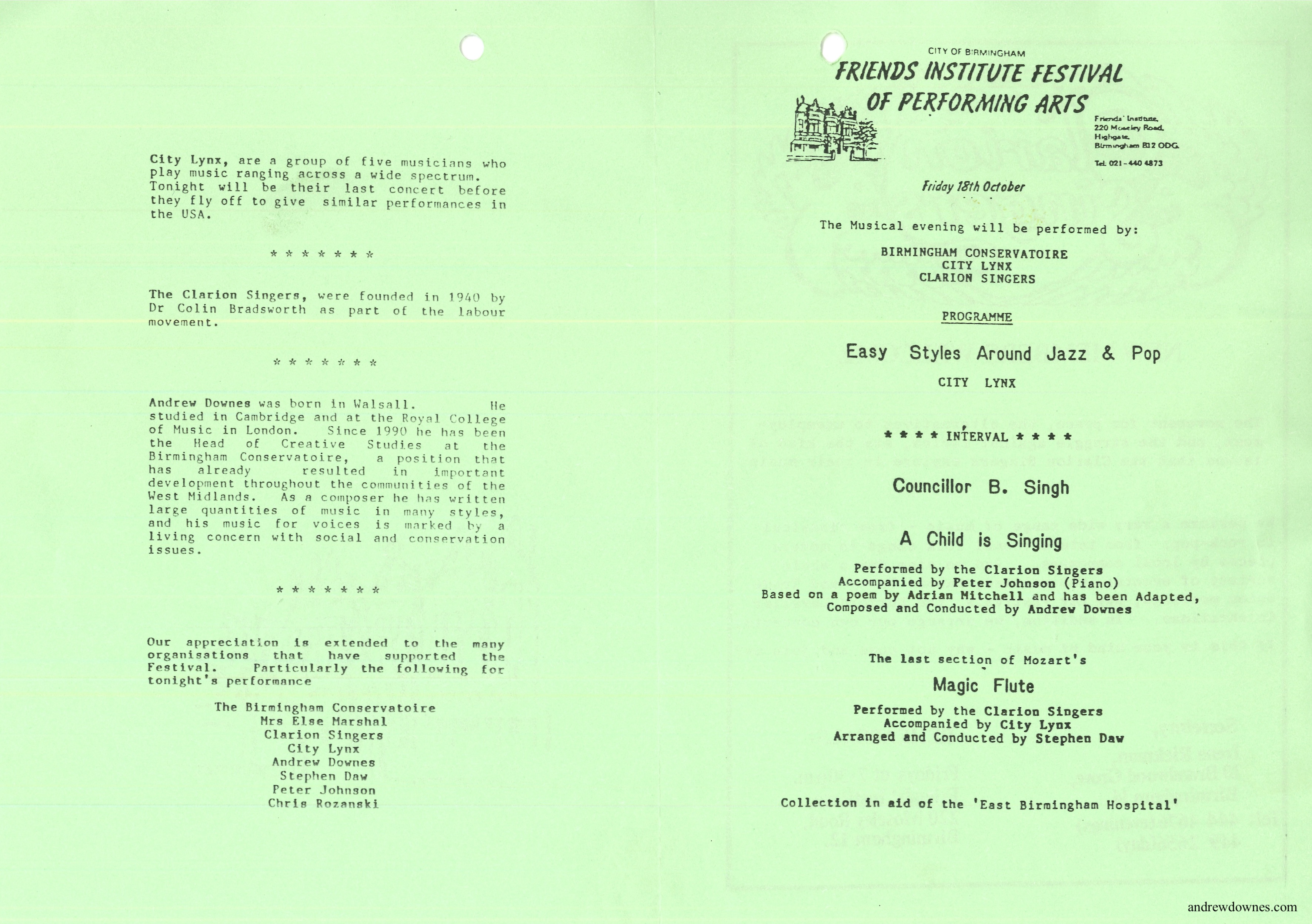 The Clarion Singers were accompanied by superb pianists Malcolm Wilson, Tony Cross and Peter Johnson respectively, and conducted by Aubrey Bowman and Andrew Downes in their performances of the Cantata. Here is a small extract from the Cantata:
Have you performed in this work or come to watch?
We would love to hear about your experience. Please share it here!
If you have performed in any of Andrew Downes' works or come to listen, please share your experiences in the Premieres Blog! Also see what others have said. Thank you so much for your contribution.