The Premiere Performances of Andrew Downes' Arrangements of Christmas Carols: Veni Emmanuel and Coventry Carol
December 15th, 1979, 7.30pm, Hereford Cathedral
Have you performed in either of these works or come to watch? Please share below!

---
---
                      Hereford Cathedral



An account by his wife and publisher, Cynthia Downes, posted on March 22nd, 2018


Veni Emmanuel and Coventry Carol
In 1979 Andrew felt honoured to be asked by Roy Massey, organist and choirmaster at Hereford Cathedral, to arrange these 2 carols for the choir, and in the case of Veni Emmanuel, (O come, O come Emmanuel), also for organ and brass, for a Christmas concert in Hereford Cathedral. 
Andrew created some beautiful medieval sounding harmonies for the Coventry Carol and a stunning arrangement for Veni Emmanuel.



Letters between Ron Massey and Andrew Downes
---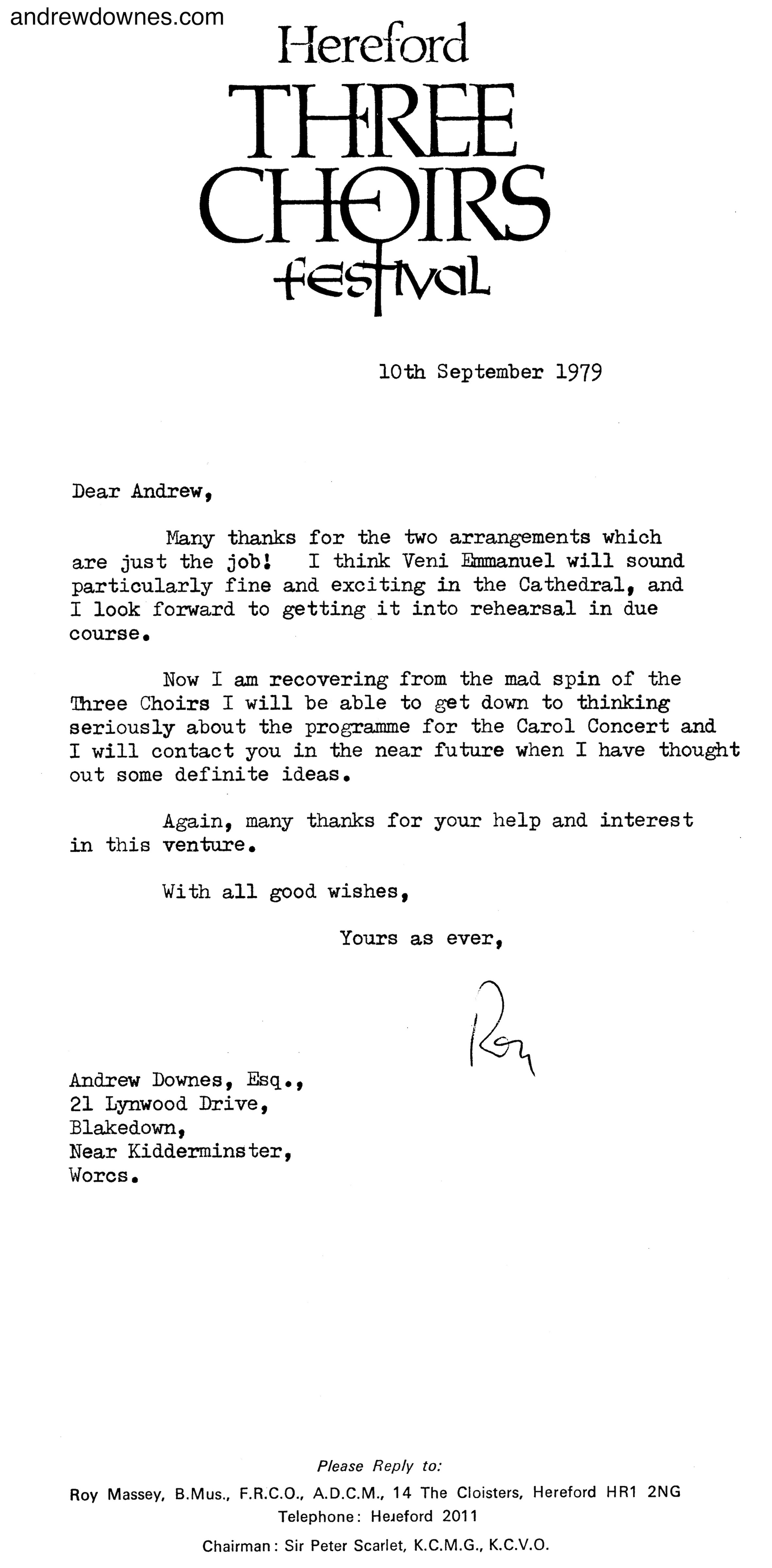 ---
fff



---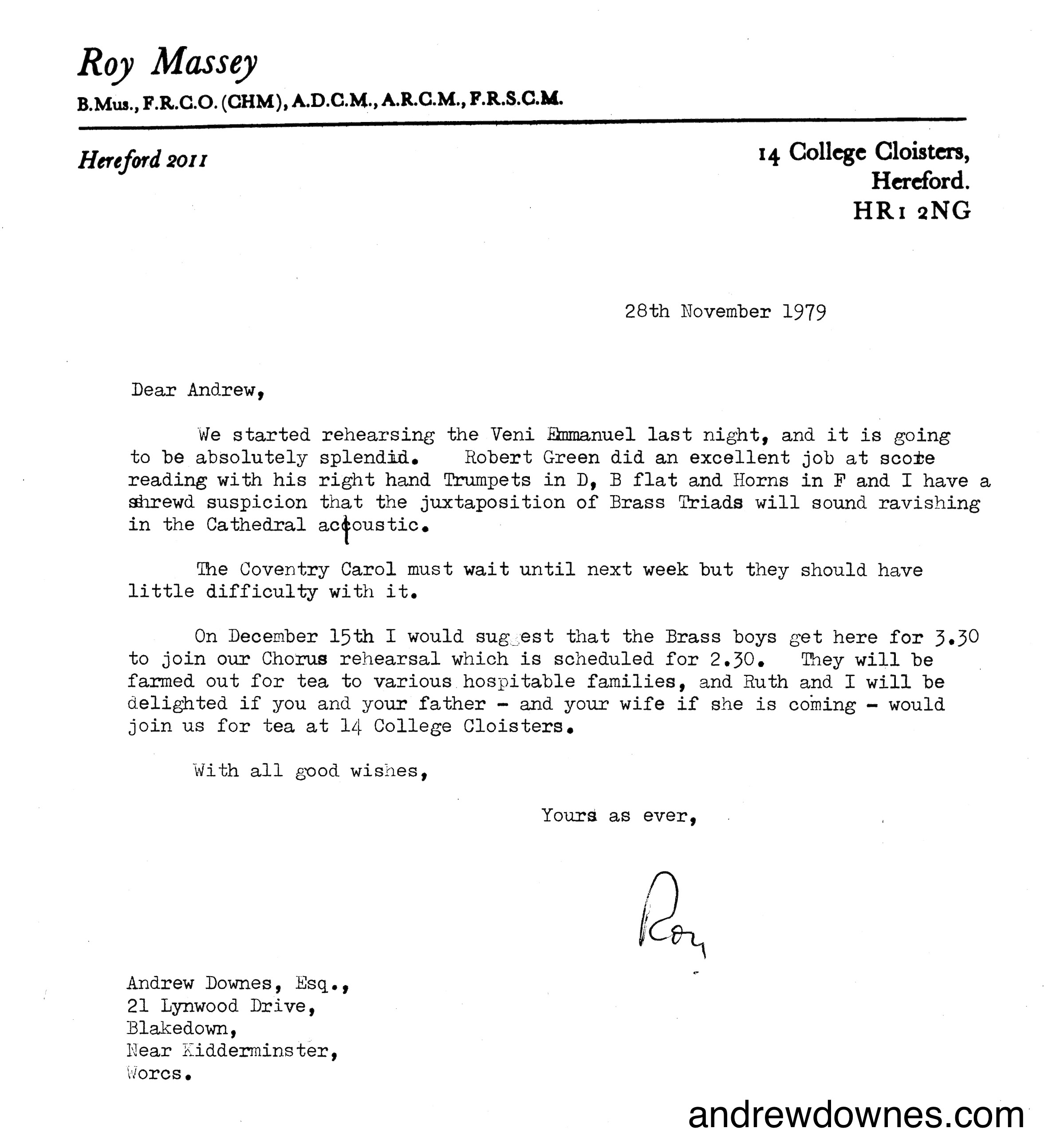 ---


The first performances took place on December 15th 1979.
 
That was also the expected birth date of our second daughter, Paula. In fact Paula was born on December 13th. That morning I felt mild contractions, so decided to go around with Andrew, in case he might suddenly have to take me to hospital.
 
We took our toddler, Anna, to my mother's house and then I went with Andrew into Birmingham Conservatoire for a brass rehearsal of Andrew's Veni Emmanuel.

Just before the rehearsal my contractions became extremely strong.  Andrew started to get very anxious. A colleague came up to him at that point and asked Andrew to check a cadenza which the colleague had written. The sheet of music positively shook in Andrew's trembling hand! 

I still felt the birth wasn't imminent and so I told Andrew to do the rehearsal.
 
The brass players started to play and sounded incredibly loud in Lecture Room 2 of Birmingham Conservatoire. It was as if Paula thought: "I'm not going out to this!" And she was quiet for the 2 hour rehearsal!

As soon it was over, the contractions got violent for our quick drive to the Croft nursing home in Kidderminster, where I was told off by the midwives for leaving it rather late to get there!  Paula was born at 10.25 pm that night.

2 days later was the Christmas concert.  Andrew recorded his 2 premieres in Hereford Cathedral for me.

The following day Andrew came with our toddler, Anna, to pick me and baby Paula up from the Croft nursing home.  I sat in the front seat of the car and the midwife handed the baby to me.  That's how we drove home. No seat belts in those days...

On the way home Andrew played the recordings to us. I cried in the car, holding the baby, overcome by emotion and the beauty of these 2 gorgeous arrangements and the lovely performances!
 
Anna remembers this well.  It was probably one of her first memories.  I wondered if baby Paula recognised the brass in Veni Emmanuel from her experience 2 days before!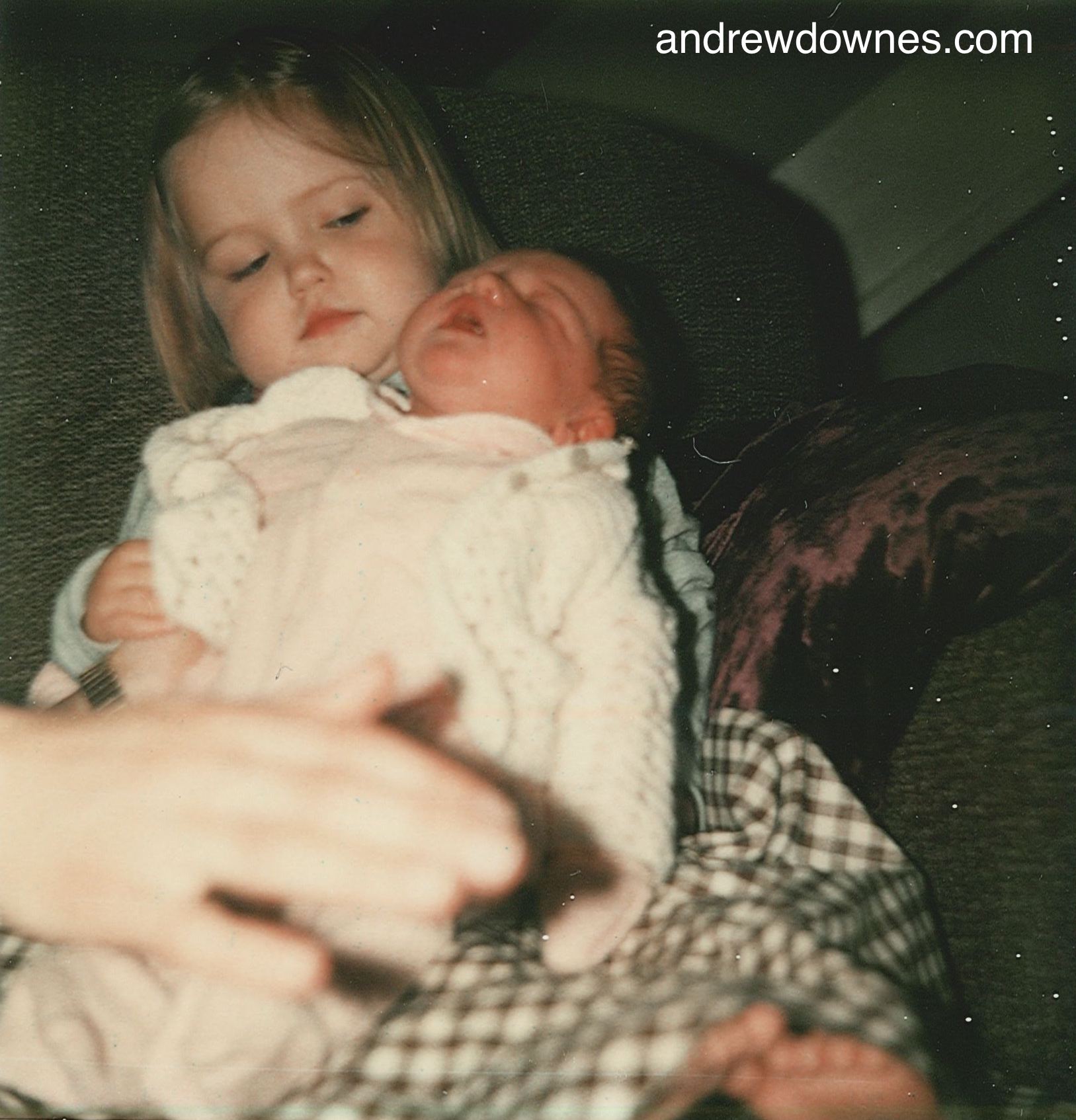 Baby Paula Downes, born December 1979,
with older sister Anna Downes (bottom photo)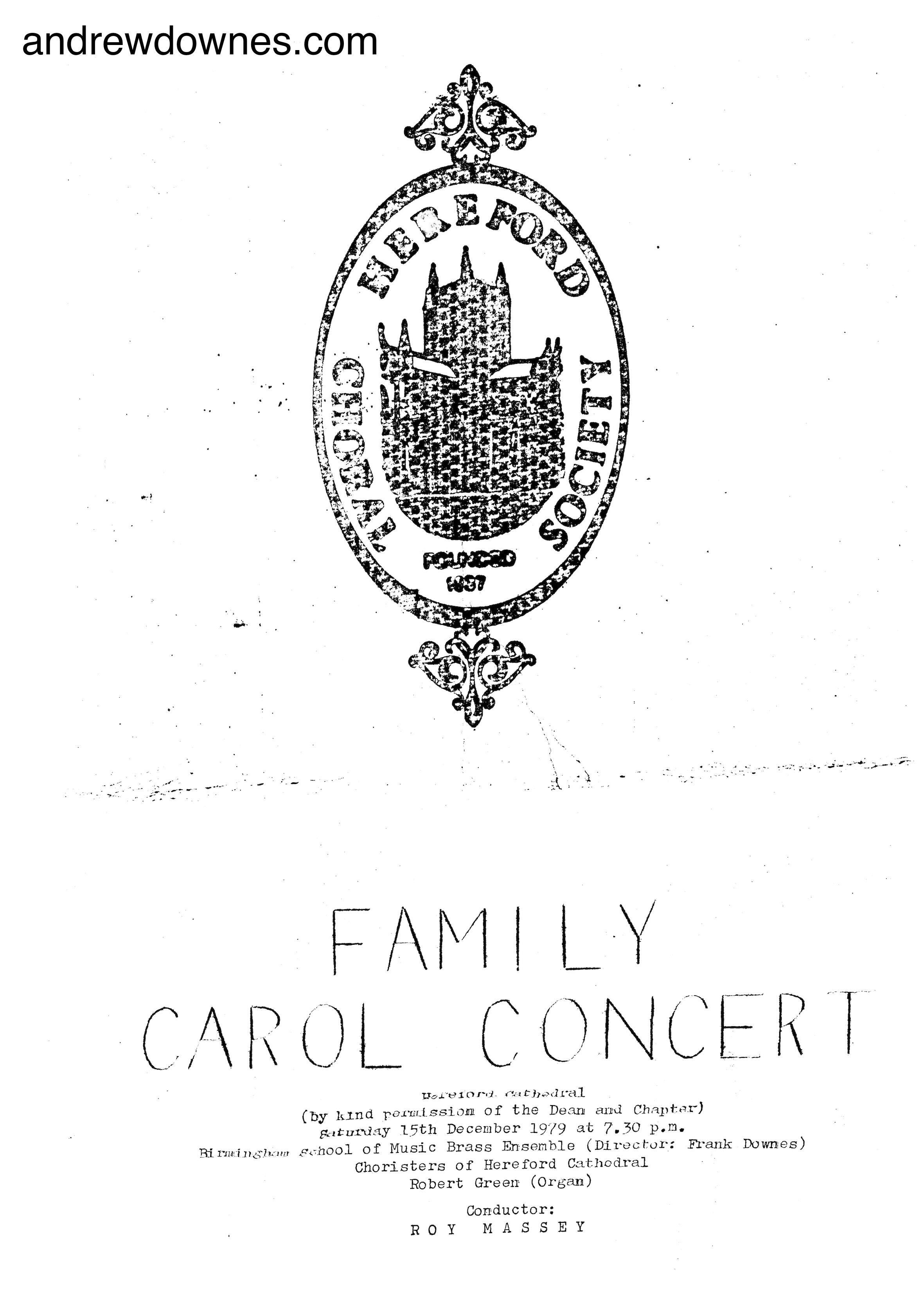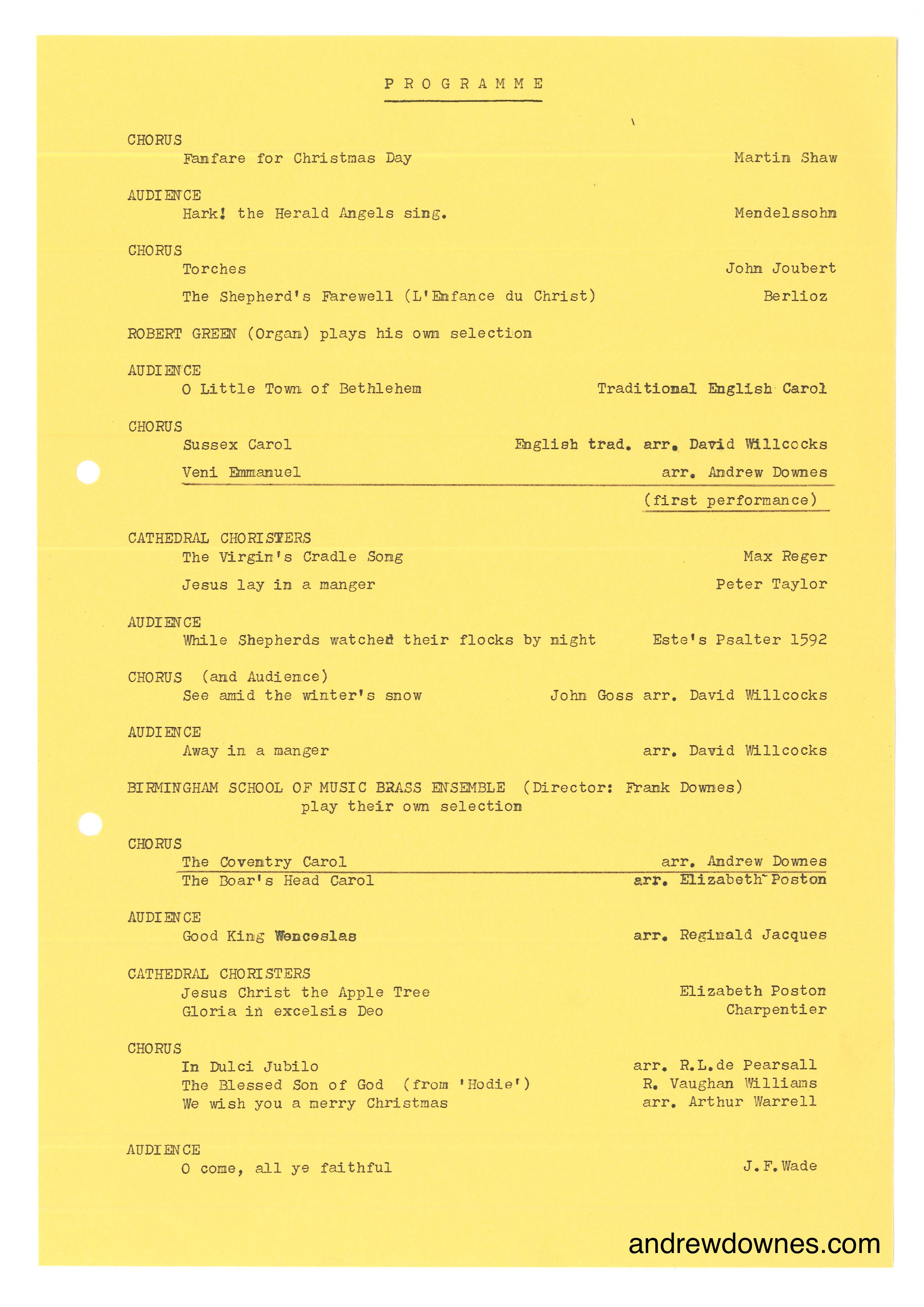 Programme for the premiere performances in Hereford Cathedral.


Have you performed in either of these works or come to watch?
We would love to hear about your experience. Please share it here!
Follow Cynthia Downes on Instagram to keep up-to-date with her blog posts:
@cynthia.downes.12
---
If you have performed in any of Andrew Downes' works or come to listen, please share your experiences in the Premieres Blog! Also see what others have said. Thank you so much for your contribution.