Toccata for Brass Band


Upton Upon Severn across the river (photo by Mike Finn) where Andrew Downes' Toccata for Brass Band was premiered in 1975


PREMIERE:

12th July 1975
Birmingham School of Music Brass Band
Upton-upon-Severn Heritage Festival
Conductor Roy Curran

More information and sheet music


Have you performed in any of these works or come to watch? Please share below!


An account by Andrew's wife and publisher, Cynthia Downes, posted on February 28th, 2022


TOCCATA FOR BRASS BAND Opus 7 (1975) 12'
More info


Andrew had only been teaching at the Birmingham School of Music (now Royal Birmingham Conservatoire) a short time when Roy Curran, Director of the Birmingham School of Music Brass Band, asked him if he would like to compose a piece for the Band.  Andrew was delighted and composed his superb Toccata.  He wasn't so pleased, however, when at the first performance Roy Curran said to the audience: "I asked Andrew if he'd written for Brass Band before and he said, 'No, but I'll have a go.'  I don't think he's done too bad a job on his first attempt.  I'm sure you'll agree."  Young composers in those days didn't get much respect.  That premiere took place in the Upton-upon-Severn Heritage Festival on 12th July 1975.


Programme:


In March 1976, Andrew conducted the Band in a second performance of the work in the Recital Hall of the Birmingham School of Music.


That same year, we were thrilled when Harold Gray, then assistant conductor of the CBSO, told Andrew that he was going to be conducting the National Youth Brass Band on their annual course in Ipswich, and he asked for score and parts of the Toccata for Brass Band so that he could coach and direct the Band on it.  They performed the work in Alexanders College, Felixstowe, and in the Gaumont Theatre, Ipswich, in April that year.  We went to the Gaumont Theatre concert.  Their performance of Andrew's Toccata was absolutely brilliant.  I recorded it on my cheap cassette player, which unfortunately couldn't cope in the large space, but here is a snippet:


Felixstowe programme:


Gaumont Theatre, Ipswich programme: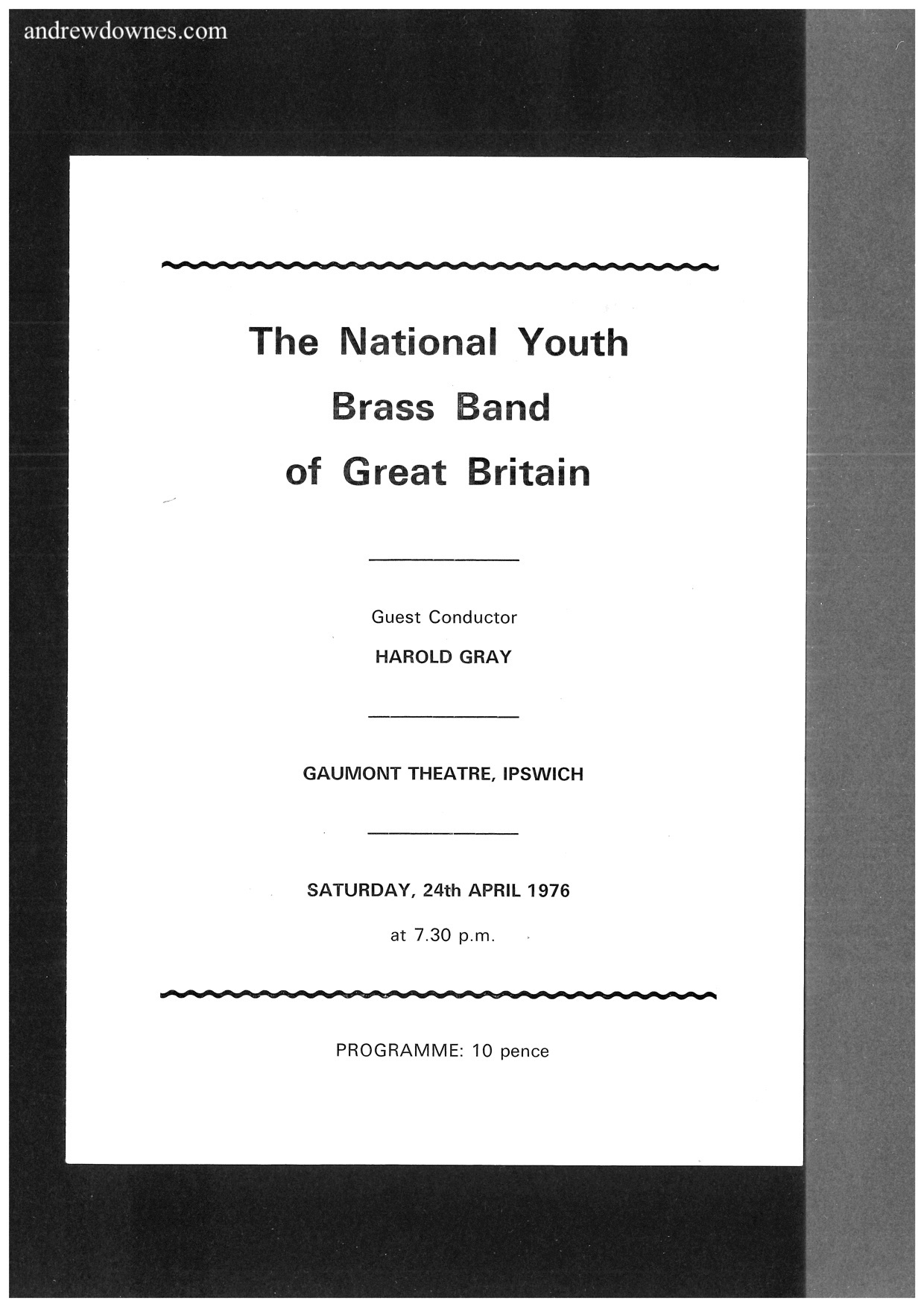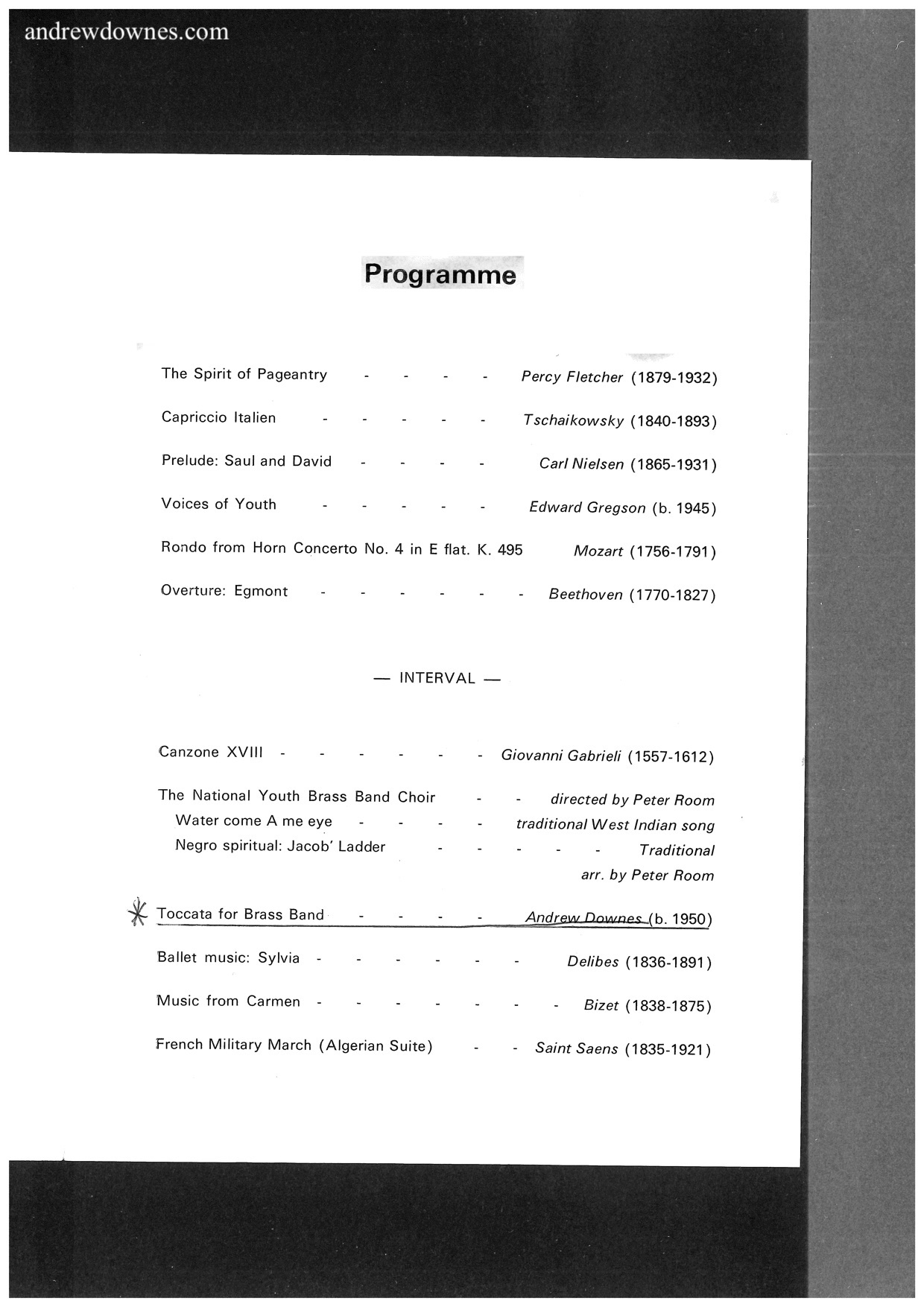 We stayed overnight in a hotel after the concert (You will see from the bill below how much cheaper life was in those days, matched unfortunately by salaries!) and Harold kindly offered us a lift back the next day.  We were amazed that he stopped at many pubs along the way, often going through the back door because he knew the landlords, and ordered gin and French for himself.  Andrew and I had soft drinks!  It was a long journey and Harold looked upon the alcohol as sustenance.  These were the days before drink driving laws, but we were relieved to get back in one piece!  Harold's mother was a smoker and gin drinker too.  She lived to 107!  Andrew used to say she was pickled.  Harold himself also lived well into his 90s.

Hotel bill: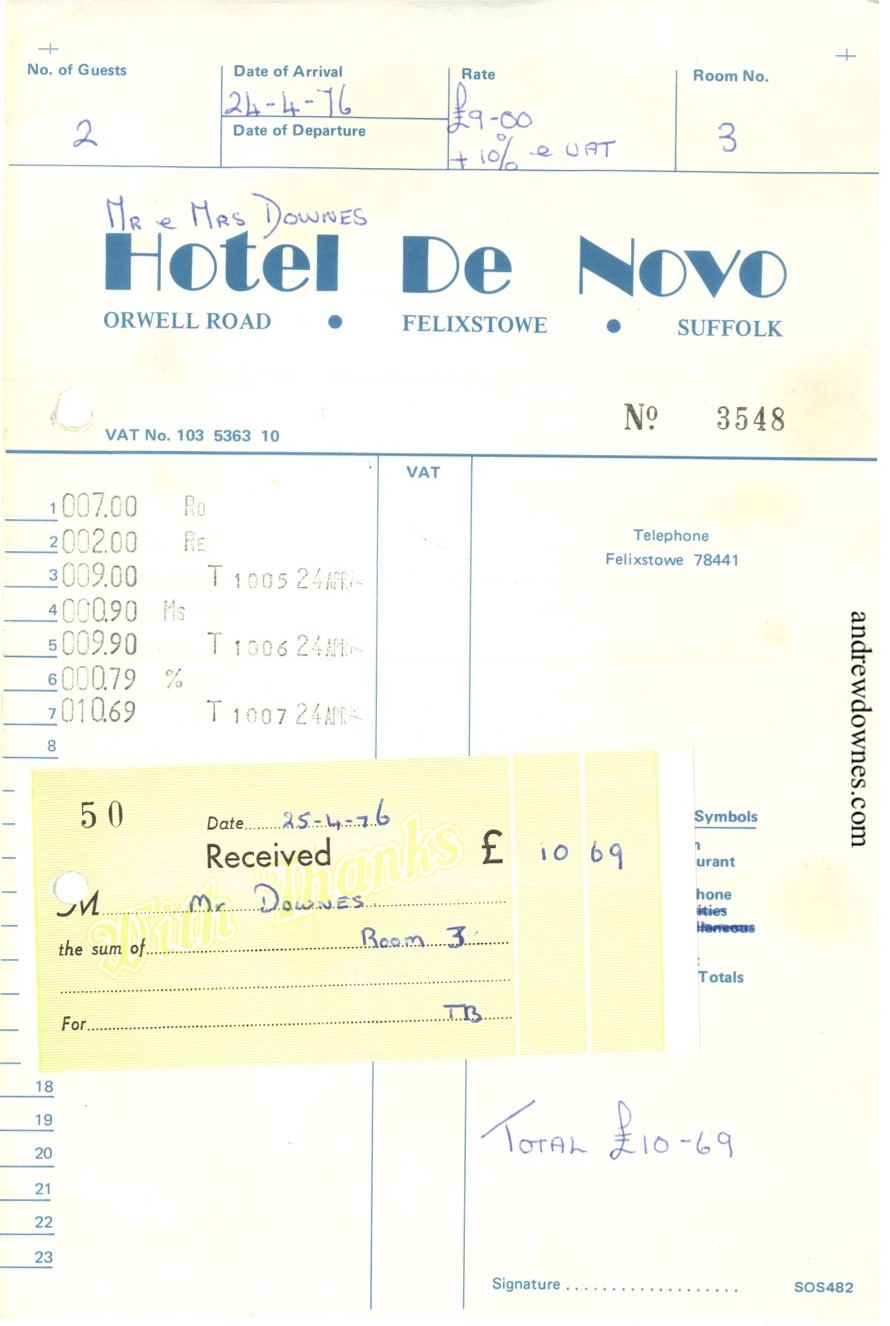 After that I wrote to various bands and asked them if they would be interested in the work.  The mighty Besses o' th' Barn Brass Band wrote back and I sent a score.  They said they would perform it, so I sent the parts.  Thus the Besses o' the' Barn Brass Band, directed by Frank Bryce, performed the Toccata in Mansfield Civic Hall in December 1977.

Correspondence:

Have you performed in this work or come to watch?
We would love to hear about your experience. Please share it here!
Return to the top of the page

Return to Premieres Blog page

Follow Cynthia Downes on Instagram to keep up-to-date with her blog posts:

@cynthia.downes.12
ddd
---
ddd

If you have performed in any of Andrew Downes' works or come to listen, please share your experiences in the Premieres Blog! Also see what others have said. Thank you so much for your contribution.