Music for 8 Cellos & 5 Timpani

Photo by Dominik Stelzmüller


PREMIERE:

1968
In rehearsal
BBC Midland Light Orchestra

10th May 2005
13th Rencontres d'Ensembles de Violoncelles, Beauvais, France
L'Octuor de Violoncelles and Percussions de Strasbourg
More information and sheet music


Have you performed in any of these works or come to watch? Please share below!


An account by Andrew's wife and publisher, Cynthia Downes, posted on January 30th, 2022


                                                                                                                                     
MUSIC FOR 8 CELLOS & 5 TIMPANI opus i (1969)

1 continuous movement
More info

Andrew's father, Frank Downes, was a professional horn player, who had played in the RAF Central Band during the war, then with Sadler's Wells, the CBSO, the Liverpool Philharmonic Orchestra, and, to be closer to home for his growing family, the BBC Midland Light Orchestra.  As a teenager, Andrew used to like going to the BBC studio with his Dad and follow the scores which they were playing.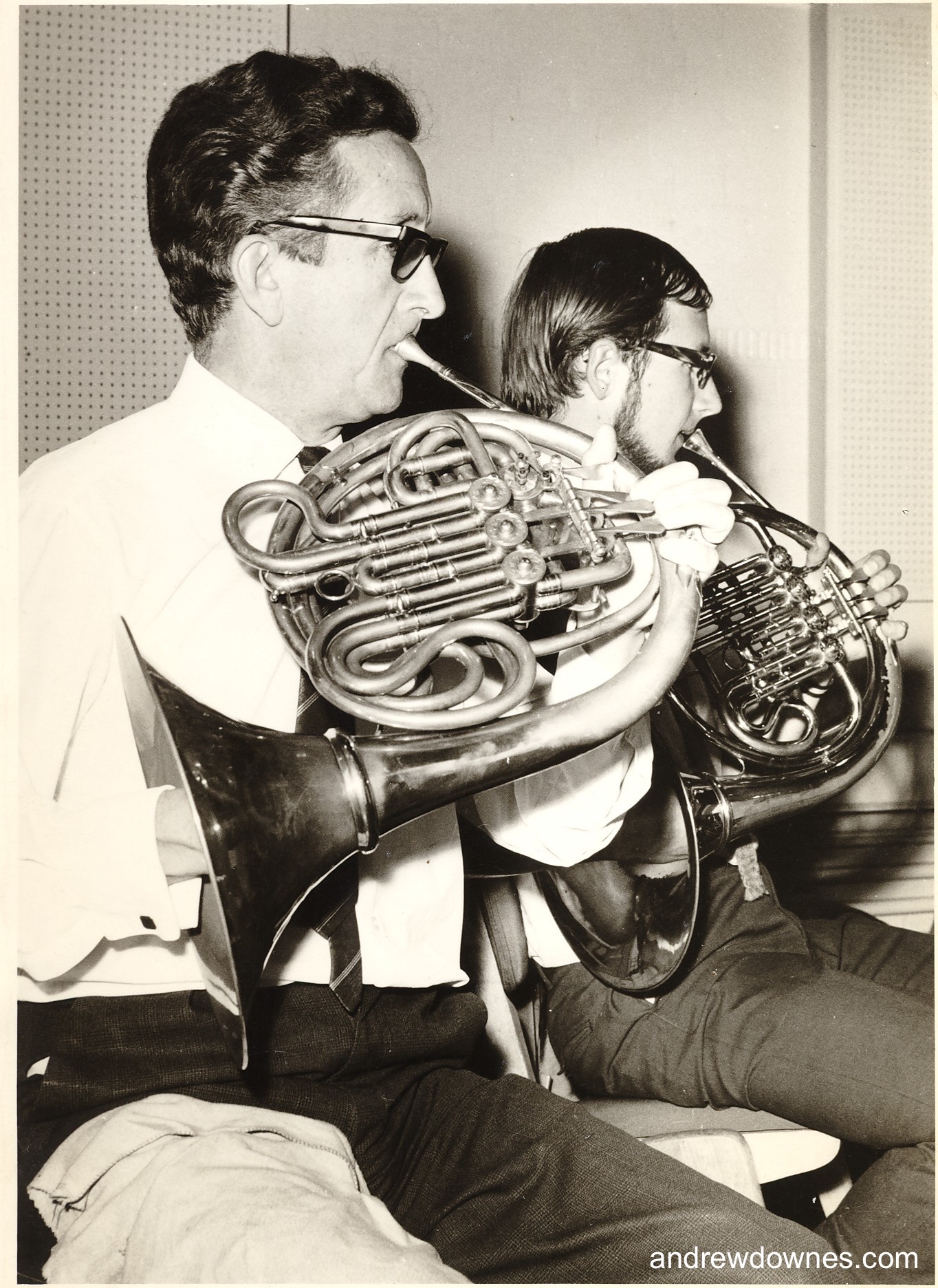 Foreground: Frank Downes recording for the BBC, 1960s.


When he was 18 Andrew wrote a work for the cello section and the timpanist of the orchestra: his Music for 8 Cellos and 5 Timpani.  He took it along to the orchestra and the cellists and timpanists played it.  The players were very impressed and complimentary.
 
This was another of Andrew's Works which was written out by hand in blue biro and so lay in our trunk until I typeset it.
   
In April 2001 we went to Paris, where Andrew's music was to be played at the Conservatoire National de Région d'Aubervilliers.  Paula came with us to perform Andrew's Songs from Spoon River with accompanist Laura Temim.  We took two days to get to Paris, stopping off at Beauvais, because of its connections with Jean Racine, whose works I had studied at University.  While we were there we saw a lot of publicity for a cello festival and L'Octuor de Violoncelles ('The Cello Octet').  I immediately thought of Andrew's work.  It was then that I set about typesetting it and wrote to L'Octour de Vionloncelles in my best French, telling them about Andrew's piece.  They wrote back and said they would be very happy to try it.  I duly sent copies, and shortly afterwards they wrote to say it would be included in their Festival in 2005.  The Octet was to be accompanied by the famous Percussions de Strasbourg.  We were thrilled!


Emails before the performance: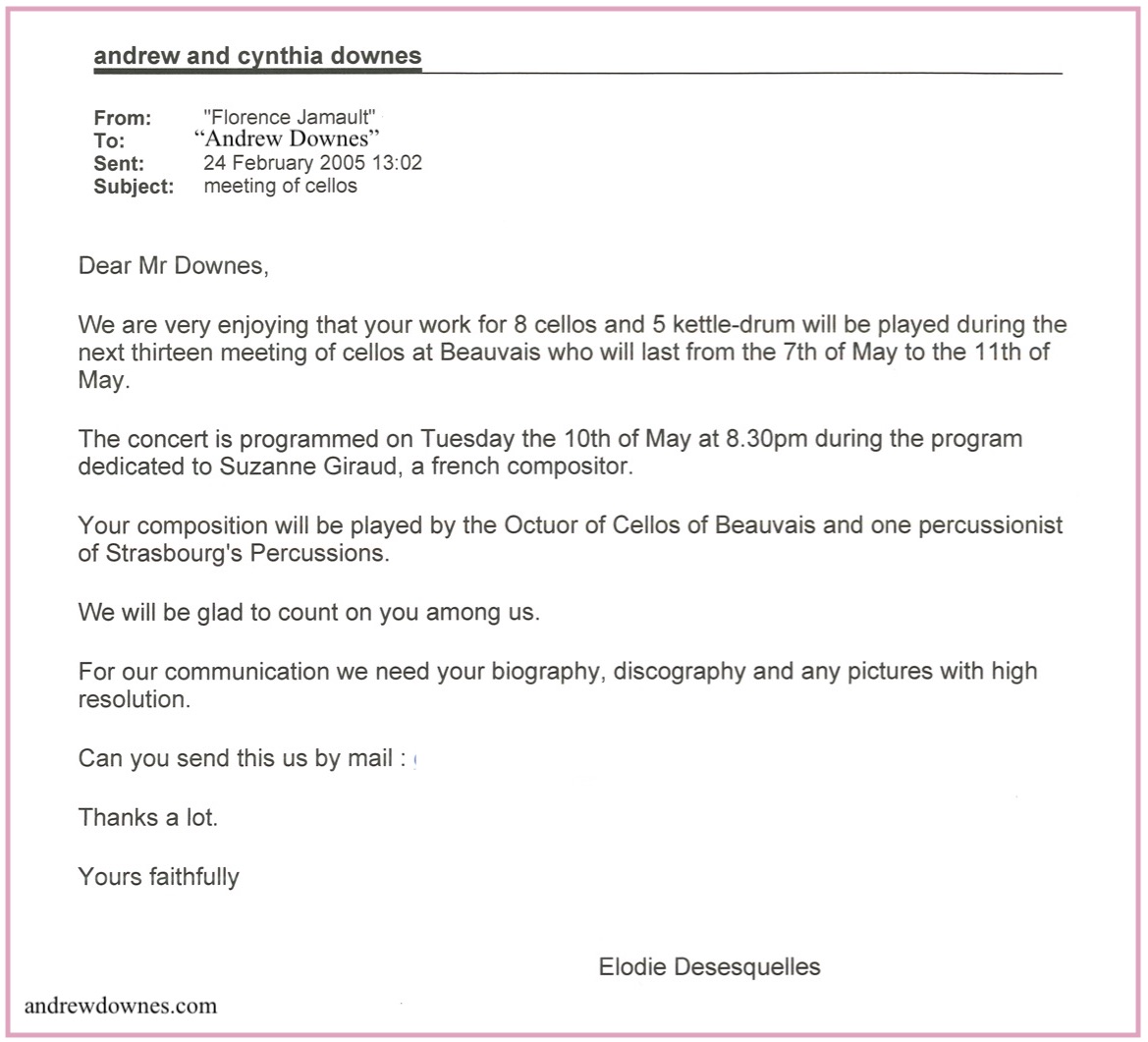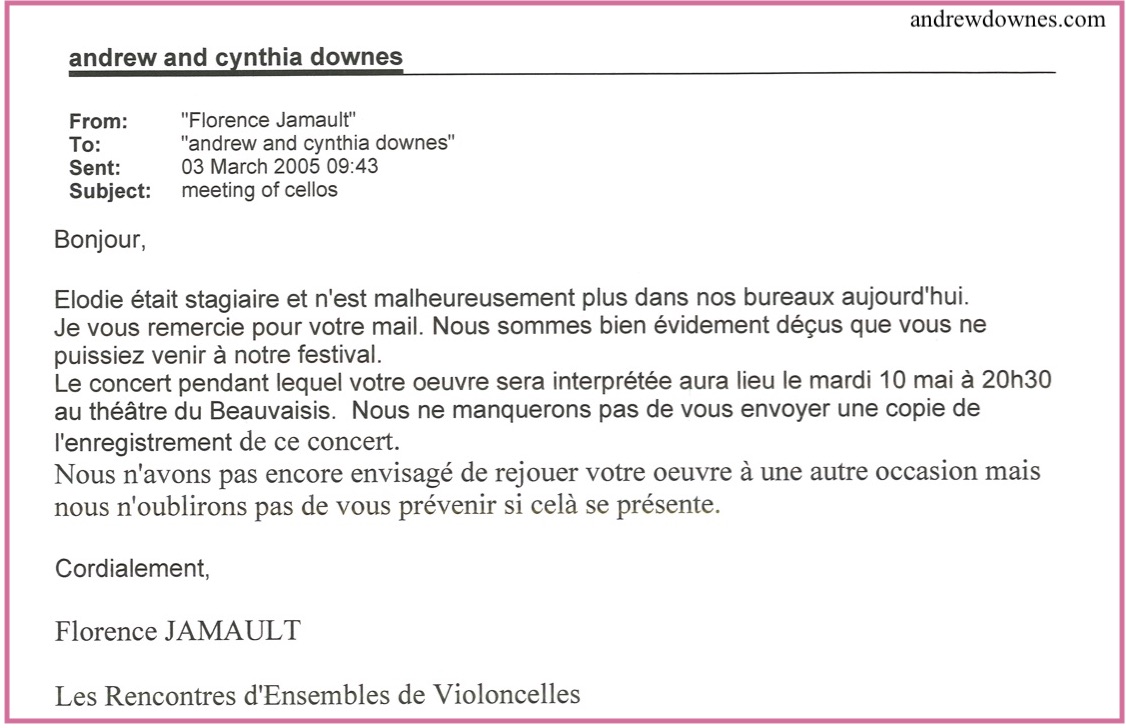 Programme: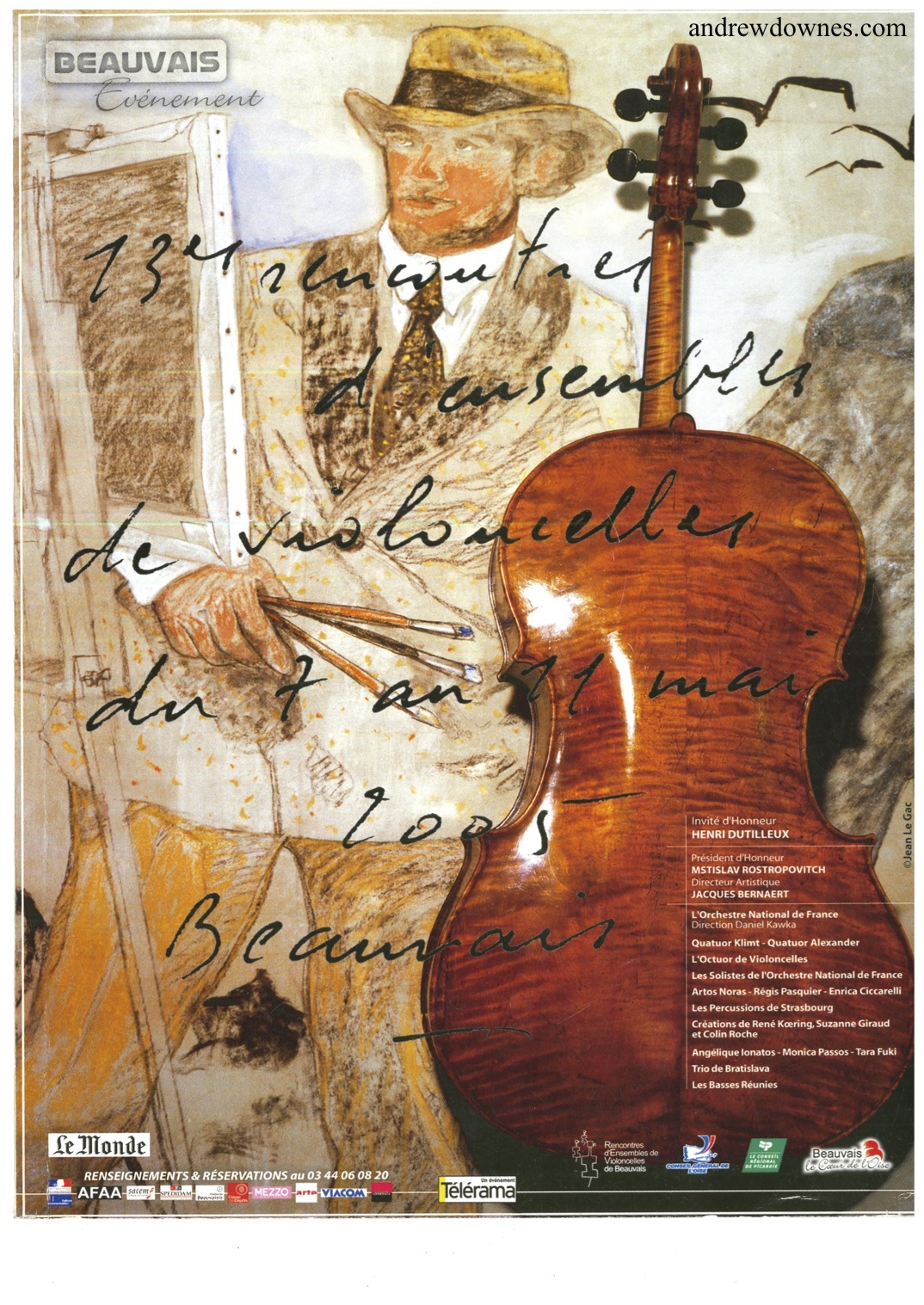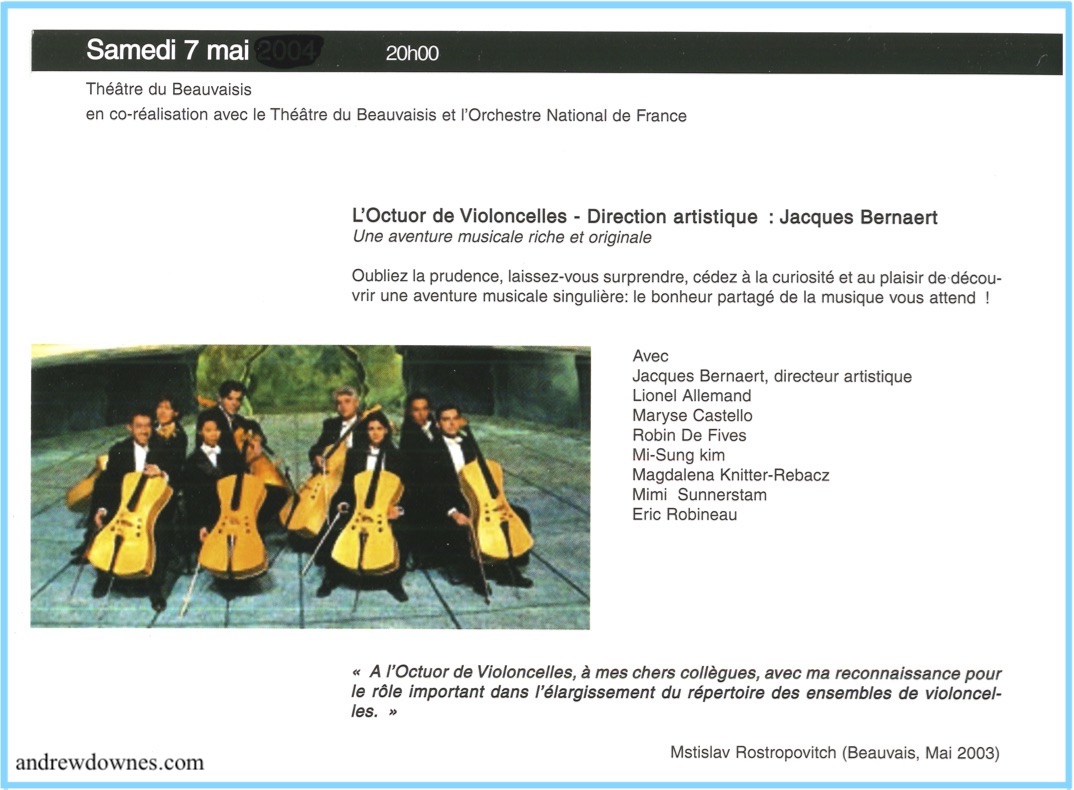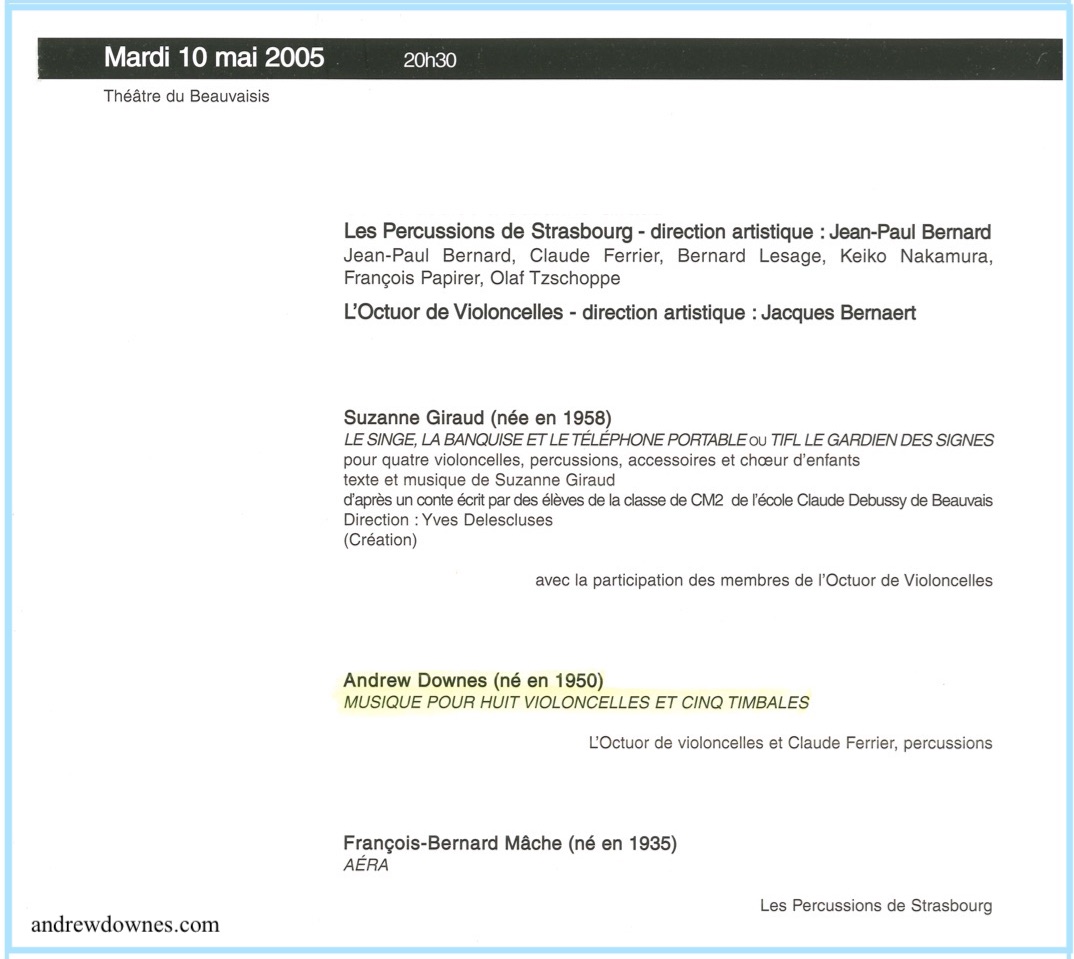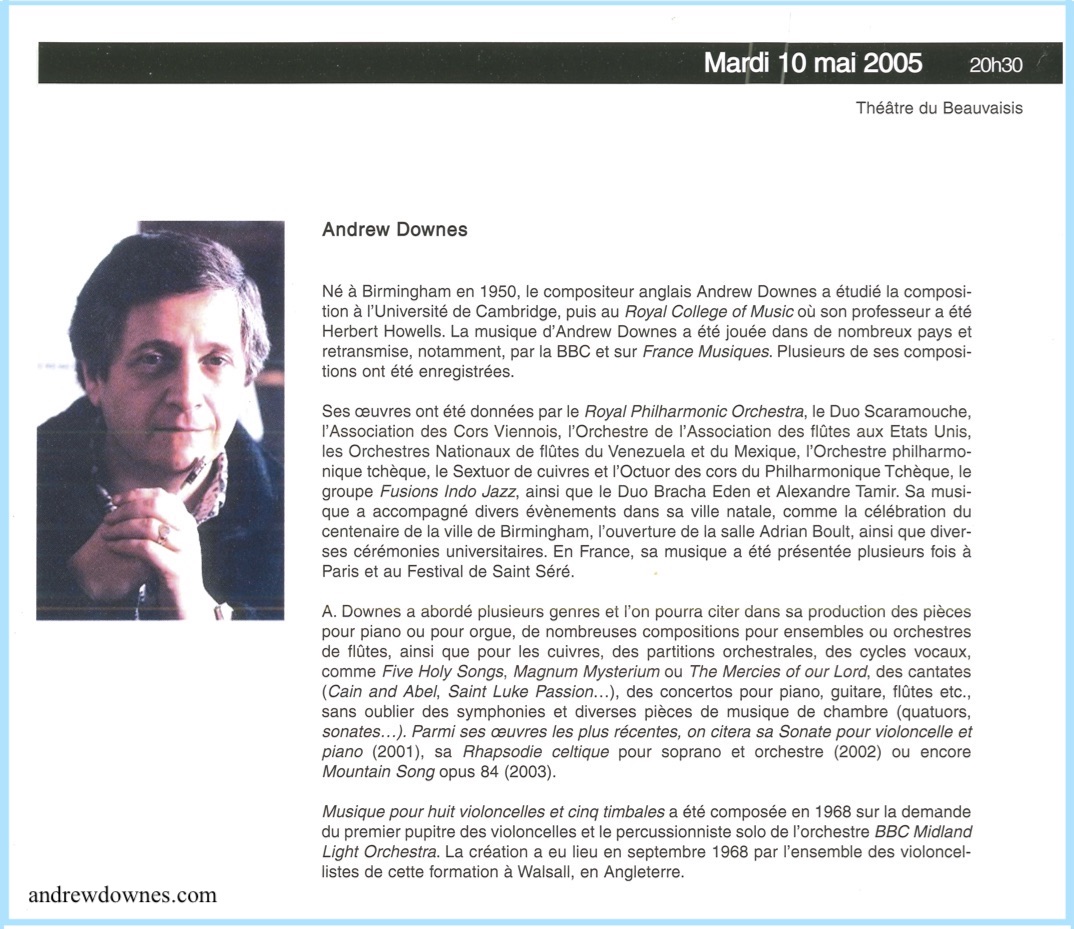 We were unable to go to the performance because it was during term time and exams at Birmingham Conservatoire, so the Octet sent us a recording.

After the performance: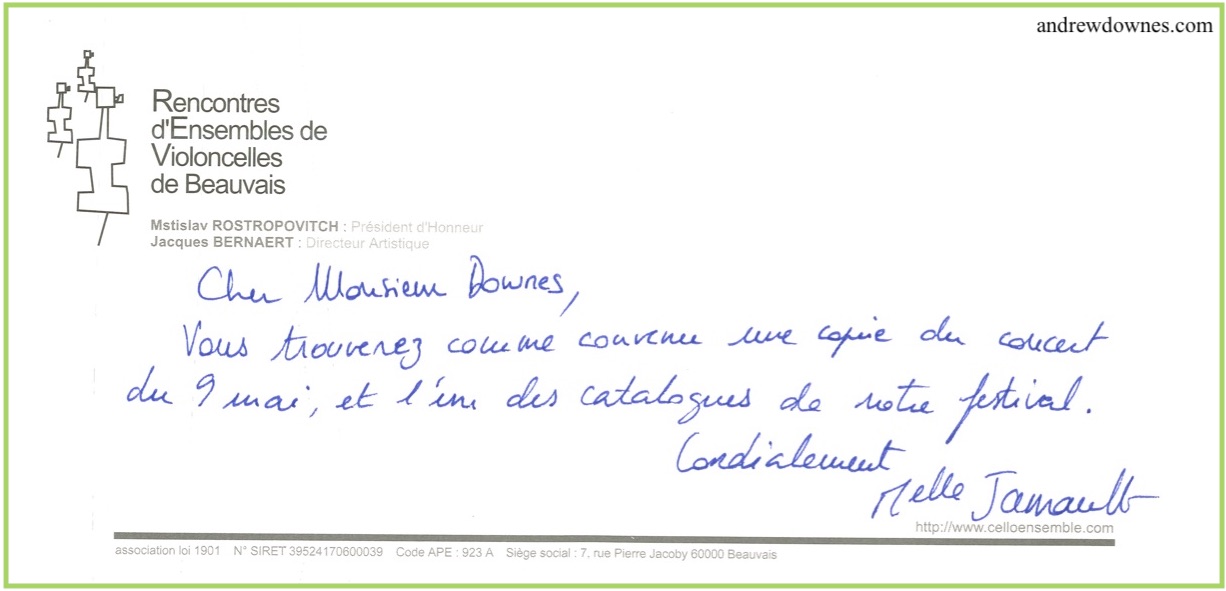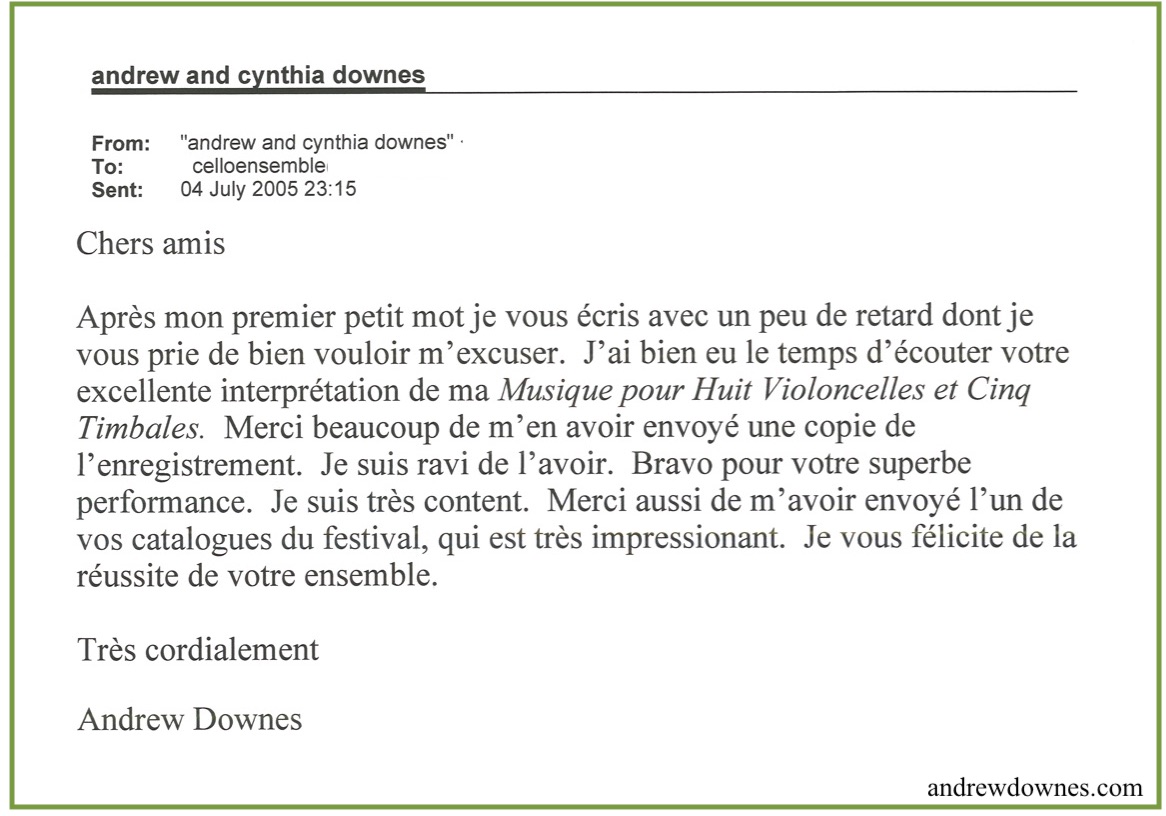 Listen:

Have you performed in this work or come to watch?
We would love to hear about your experience. Please share it here!
Return to the top of the page

Return to Premieres Blog page

Follow Cynthia Downes on Instagram to keep up-to-date with her blog posts:

@cynthia.downes.12
ddd
---
ddd

If you have performed in any of Andrew Downes' works or come to listen, please share your experiences in the Premieres Blog! Also see what others have said. Thank you so much for your contribution.