Programme Notes: Instrumental Solo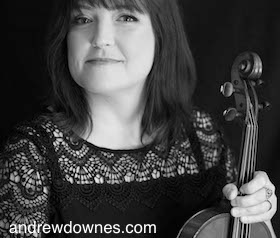 Violinist Anna Downes
On this page:
Piano
Violin and Piano
Solo Trumpet
SONATINA FOR PIANO Opus 3 (1974) 
Duration 9'  

3 movements
Andrew Downes' Sonatina for Piano, the composer's op.3, was composed in 1974. Downes had only recently completed his studies at the Royal College of Music with Herbert Howells, who wrote of him: "In a quiet but strong way one of the most effective composers coming to me these days. I have very considerable hopes for him." Malcolm Wilson premiered the Sonatina at the Birmingham School of Music and the work was subsequently included as one of the recommended works at the 1997 Concours Franco-Italien in Paris. Duncan Honeybourne gave the first broadcast performance, from Birmingham, on BBC Radio 3 in July 2001.
Downes' Sonatina, whilst rich in difficult technical passages, is immensely rewarding to play and thoroughly repays time spent in addressing its specific challenges. The first movement builds to a controlled climax via extensive use of imitation; the opening is Bach-like in its textural clarity and contrapuntal transparency. The lyrical slow movement weaves its wistful spell in almost hypnotic fashion over the simplest of bass accompaniments. The toccata-like Finale is glittering, hotheaded and impatient, betraying the aggression of Downes' youth and revealing the acidic side of his wit.
DUNCAN HONEYBOURNE
PIANO SONATA No.1 Opus 12 (1976) 
Duration 15'
3 movements
This work was requested by Renna Kellaway and completed at Blakedown, Worcestershire, in December 1976. It was first performed by Malcolm Wilson at the Birmingham School of Music in 1978. The Sonata has received numerous performances worldwide, and has attracted widespread praise for its beauty and originality. "Truly beautiful", wrote the great English pianist John Ogdon of the work, when he played it in the 1980s. Duncan Honeybourne first performed the Sonata at the Three Choirs Festival at Hereford in August 2000.

The opening is suffused with an entrancing warmth which explores harmonic tension and resolution through its evolving inner contours. There is a sense that a magical dawn is breaking, and this material is cited again at the close of the first and third movements, thus imparting a binding cohesion to the whole Sonata. Downes then introduces, at a faster tempo, a spiky motif which is rapidly spun into a vivacious, bubbling alternation of scale passages with more emphatic chordal declarations infused with rhythmic zest. A modal flavour permeates, and endures in the mournful slow movement, intense and eloquent and jewelled with a heartfelt, bittersweet singing line. The finale is a buoyant toccata which tosses staccato chords between left and right hands. The cascading turbulence eventually melts into the glowing peace and tranquil calm of the reprised opening, which is this time heard as a sunset rather than a sunrise.

DUNCAN HONEYBOURNE
PIANO SONATA No.2 Opus 82 (2002) 

Duration 20' 

3 movements 

Downes' Piano Sonata no.2 was composed for Duncan Honeybourne and completed in November 2002.

The expansive opening leads to a busier, haunted episode, interrupted by a section of melting beauty and haunting enchantment. The last movement also frames a heart of lyrical tranquility between sections of bustling vigour, and ends in a vein of serene quietude. Rhythmic complexity draws on a wide spread of influences, with echoes of the various ethnic musics that had attracted Downes' eager attention and study by this stage of his career, yet is entirely at the service of a broader message that is organic, profound, humble and often very beautiful, with strong roots in English pastoralism. Andrew Downes has long loved the writing of Thomas Hardy, reflecting as it does the distinctive personality of Hardy's deeply rural home county, Dorset. He wanted to give the Sonata a Dorset flavour on account of Honeybourne's own Dorset birth, and the second movement is especially rich in quotations from Downes' Hardy settings. The dark undercurrents which resonate throughout Hardy's psyche emerge most tangibly and tellingly in the slow movement. In writing this, Downes had in mind the open, wild Dorset countryside and visualized the passage of a wagon across open downland at night. A moment of dark repose heralds a quote from Downes' setting of a Hardy poem laden with Dorset landscape imagery brought to the service of a subtler message. As Hardy's turns of phrase are so frequently not quite as they seem, so this quasi-pastoral literary brushstroke serves to evoke a chilling human reference. Typical and masterly Hardy. Here he is relating the brooding outline of a Dorset location to the spectre of a violent and threatening husband:
"Blackon frowns east on Maiden
 And westward to the sea
 But on neither is his frown laden
 With scorn, as his frown on me."
Duncan Honeybourne premiered this haunting work at the Hugh Lane Gallery, Dublin, on March 9th 2003 and included the work in recital tours throughout Britain during 2003 and 2004, including a tour of the Scottish Highlands and Orkney in August 2003.
DUNCAN HONEYBOURNE
7 PRELUDES FOR PIANO Opus 89 (2006) 
Duration 20'

This set of pieces was specially composed for Duncan Honeybourne, who gave the first performance on the 2nd March 2006 in the Chapel of the Ascension at the University of Chichester, West Sussex. The vignettes are sharply etched and succinctly crafted, and bear evocative titles which draw the listener into a highly descriptive imagined world. My favourites, nos.3 and 6, Winter Lanes and Daybreak in the Fields capture a magically rapt stillness and demonstrate a characteristic blend of modal harmony, use of thirds, fifths and sixths and simple chords moving slowly and evocatively uncluttered by contrapuntal interplay. In the virtuosic final Prelude, Plainchant comes to mind occasionally, only to be swept aside by determinedly driving rhythms and obsessive energy. Summer Calypso, the fifth Prelude, brings a touch of something more exotic than the idyllic pastoralism which is often suggested by some of the more bucolic numbers!

DUNCAN HONEYBOURNE

More info on this work

7 POSTLUDES FOR PIANO Opus 107 (2015) 
Duration 21 minutes

'More reflective in inspiration and character – and still more economical in design - than the earlier Seven Preludes, these delicious miniatures are supremely evocative and imaginative. Every note counts, and there are some masterly touches, not least the use of the whole range of the piano to powerful effect, especially in the third and seventh postludes.

Composed in 2015 and dedicated to Duncan Honeybourne, these pieces were premiered on the 30th October 2016 at St Lawrence Chapel, Ashburton, Devon.

DUNCAN HONEYBOURNE

More info on the work

ANDREW DOWNES: SONATA FOR VIOLIN AND PIANO Opus 52 (1994)
3 Movements
Duration 25 minutes

This Sonata was specially composed for a concert dedicated to the memory of Ernest Element, given on 3rd May 1994 in the Adrian Boult Hall, Birmingham, by the Kingsdown Duo - Roger Huckle, violin, and John Bishop, piano. Ernest Element had a long and distinguished career as a top orchestral violinist, chamber music player, and leading violin teacher, principally at the Binningham School of Music.
"The piece is in no way programmatic, but its generally wann and optimistic nature is meant, in some way, to reflect the caring, generosity and great friendship offered to all with whom he came into contact by the man to whom the work is dedicated, Ernest Element.
"The Sonata is in three movements, the first predominantly moderate in pace but with some fast rhythmic and multi-tempo passages. The second movement is mainly slow and rather sad, but with a much happier, breezier section in the middle. The finale is of a strong, rhythmically complex and hopefully exciting nature, but with a reflective ending.
"The overall style of the piece attempts to bring together many of the idioms from around the world with which I have been concerned in recent years. There is a melting together of English and Celtic modal styles with elements of Indian Ragas, particularly the Malkosh and Kafi, and there is also influence from African and Indian rhythms in the fast, multi-time rhythmic passages.
"I hope you enjoy the piece. My heartfelt thanks to the performers for asking me to write it."
ANDREW DOWNES

More info on this work
MEDITATIONS FOR SOLO TRUMPET Opus 38 (1986)

3 Movements

Duration 3 minutes

This work in 3 short movements for solo trumpet was commissioned from Andrew Downes by Richard Adams, a fine British trumpeter who leads the Cambrian Brass Quintet.

He first performed the work in a recital which he gave on June 17th 1986 at St Paul's Church Hockley, Birmingham. This church, built for the Jewellery Quarter of Birmingham in 1779, enjoys fine acoustics, and is used by the BBC for its broadcasts.

The performance on the recording below is the one Richard Adams gave at St. Paul's. Adams has performed this work as part of his repertoire in numerous solo recitals.

The Meditations, which also formed part of the prize-winning programme by Martin Orgill at the Birmingham Conservatoire Doris Newton Competition, is often taken up by young players who are in search of a work which is challenging both technically and musically.

The first movement, which is marked Andante, is a plaintive solitary but song-like tune. The player has to aim for a very smooth singing tone. The second movement, Allegro ma non troppo, develops the first movement. It is characterised by triplet phrases which flow in a scherzo-like manner. The last movement is marked Adagio: desolate. It has similar note progressions to the other movements but is mournful and reflective. It forms a short but very poignant ending to the work.

CYNTHIA DOWNES
Back to Instrumental Solo Works
If you have performed in any of Andrew Downes' works or come to listen, please share your experiences in the Premieres Blog! Also see what others have said. Thank you so much for your contribution.