The Premiere Performance of Centenary Firedances
For full symphony orchestra including a large group of percussion instruments (together with marimbas, bongos, cowbells, tom-toms and an Irish drum) and two sets of timpani.

Adrian Boult Hall, Birmingham, Friday March 3rd 1989, 7.30pm
Have you performed in this work or come to watch? Please share below!

An account by his wife and publisher, Cynthia Downes, posted on February 8th, 2018
For the Birmingham Centenary celebrations the City Council were looking for a new piece of music to accompany a grand midsummer fireworks display in Cannon Hill park. They approached Roy Wales, the then Head of Birmingham Conservatoire, who recommended that Andrew should compose the music.
Andrew was thrilled and honoured to be asked. He wanted to reflect the cultural mix of the City in the music. The first movement is inspired by rock music with African drumming and rhythm. The third movement pays tribute to the Irish Community in Birmingham and features a bohran. Throughout all the movements there are influences of Indian music and English pastoral music. A 14 man percussion section is required. Andrew had great fun rehearsing with his composer students, who all played percussion in the performance. Unrepeatable lyrics were created (mainly by Andrew) to all the rhythms!
During the day of the Fireworks Fantasia Andrew invited all the students in his School of Composition and Creative studies to perform original music in groups round the park. He must have walked miles, going round all the groups.
Centenary Firedances were linked by computer to the fireworks by Dragonfire Ltd, who did a wonderful job sculpting all the sounds with light in the sky. It was an amazingly exciting event. 30,000 people came and brought picnics. A video which was made showed the delight on everyone's faces. People of all races came. No incidents were reported by the police. The Birmingham Post said: "For once Birmingham got it right!"

A cassette recording was made of the music and sold out on the night (3000 copies). That same recording was put on CD, several editions being made as each batch sold out.

The Birmingham Conservatoire Symphony Orchestra, conducted by Jonathan Del Mar, performed the work that night and also on the recording and in a concert in the run up to the event. At the premier in the Adrian Boult Hall everyone realised how exciting the music was.

Several friends joined us in the VIP house for the Fireworks Fantasia, including our next door neighbour, who said it was his best evening since his wedding decades previously. 

Both of our daughters were old enough to attend. Years later, Anna organised a performance in 2003 with her orchestra, Central England Ensemble, conducted by Eric Hinton, in the CBSO centre, and I myself directed a performance with my Hagley Community Orchestra in the 2007 Hagley Music Festival. For this Hagley performance I invited a number of our piano teacher friends to play in the percussion team, some of them playing the more exotic instruments on keyboards. Reverend Richard Newton, an excellent organist, made his debut as cymbal player extraordinaire. Everyone took their roles very seriously and we had great fun.

The cassette recording by the original artists was made into a CD, together with The Marshes of Glynn, which continues to sell.

Centenary Firedances is another favourite piece of mine.

Andrew was very nervous about the first performances of Centenary Firefances. All the organisational stress and nerves caused a terrible flare up of his ankylosing spondilitis in his neck. He had to wear a collar lined with ralgex wadding for all the rehearsals. He was in great pain, but always remained cheerful and encouraging to his students.

Read the Evening Mail report on the event below! 
Event flyer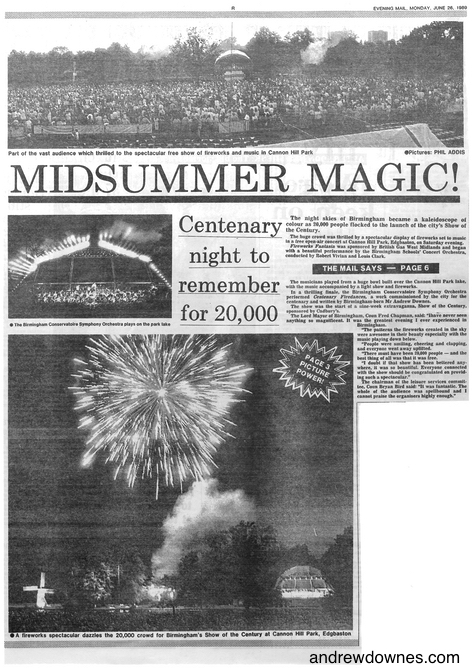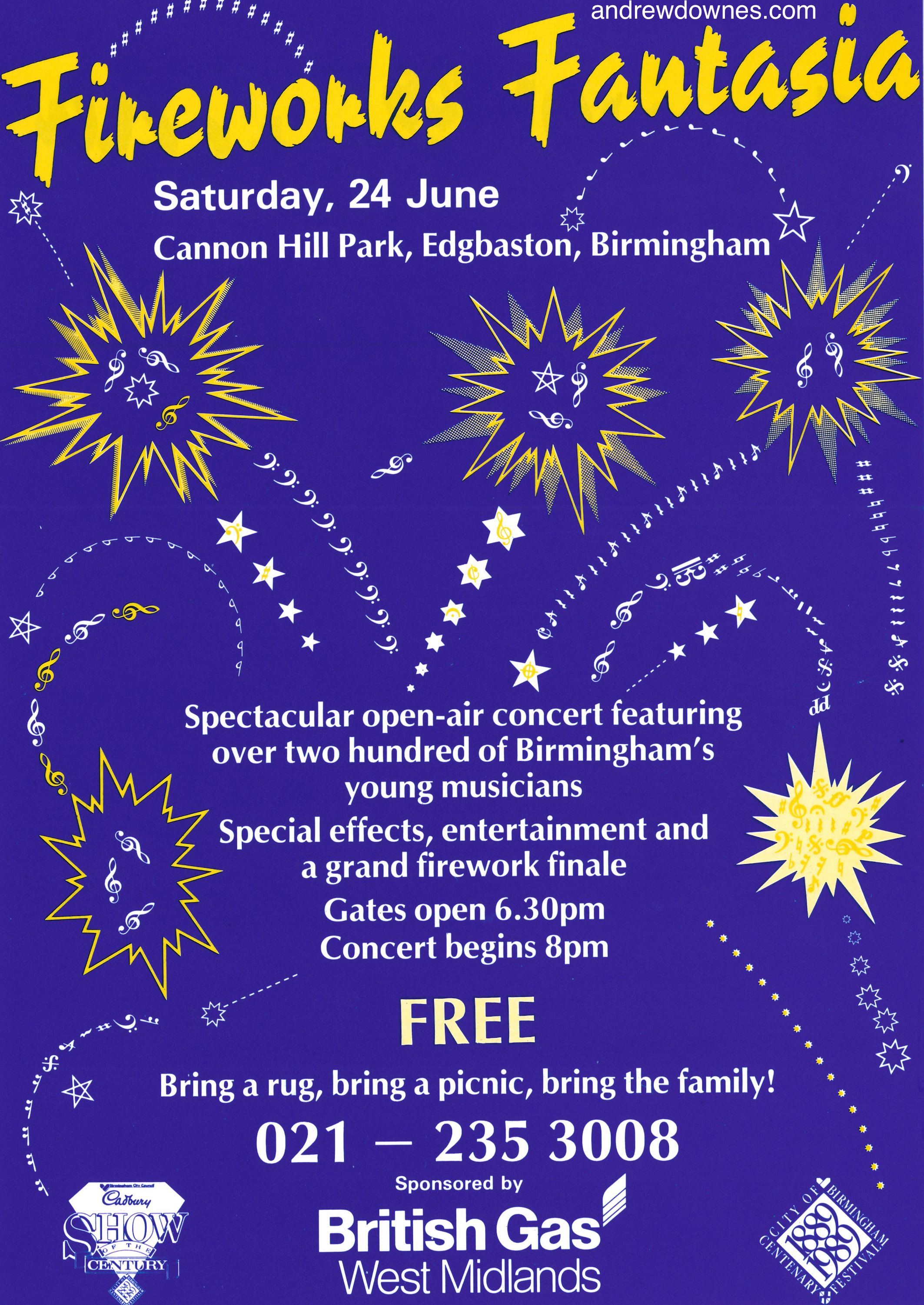 Have you performed in this work or come to watch?
We would love to hear about your experience. Please share it here!
Follow Cynthia Downes on Instagram to keep up-to-date with her blog posts:
@cynthia.downes.12
---
If you have performed in any of Andrew Downes' works or come to listen, please share your experiences in the Premieres Blog! Also see what others have said. Thank you so much for your contribution.