Biography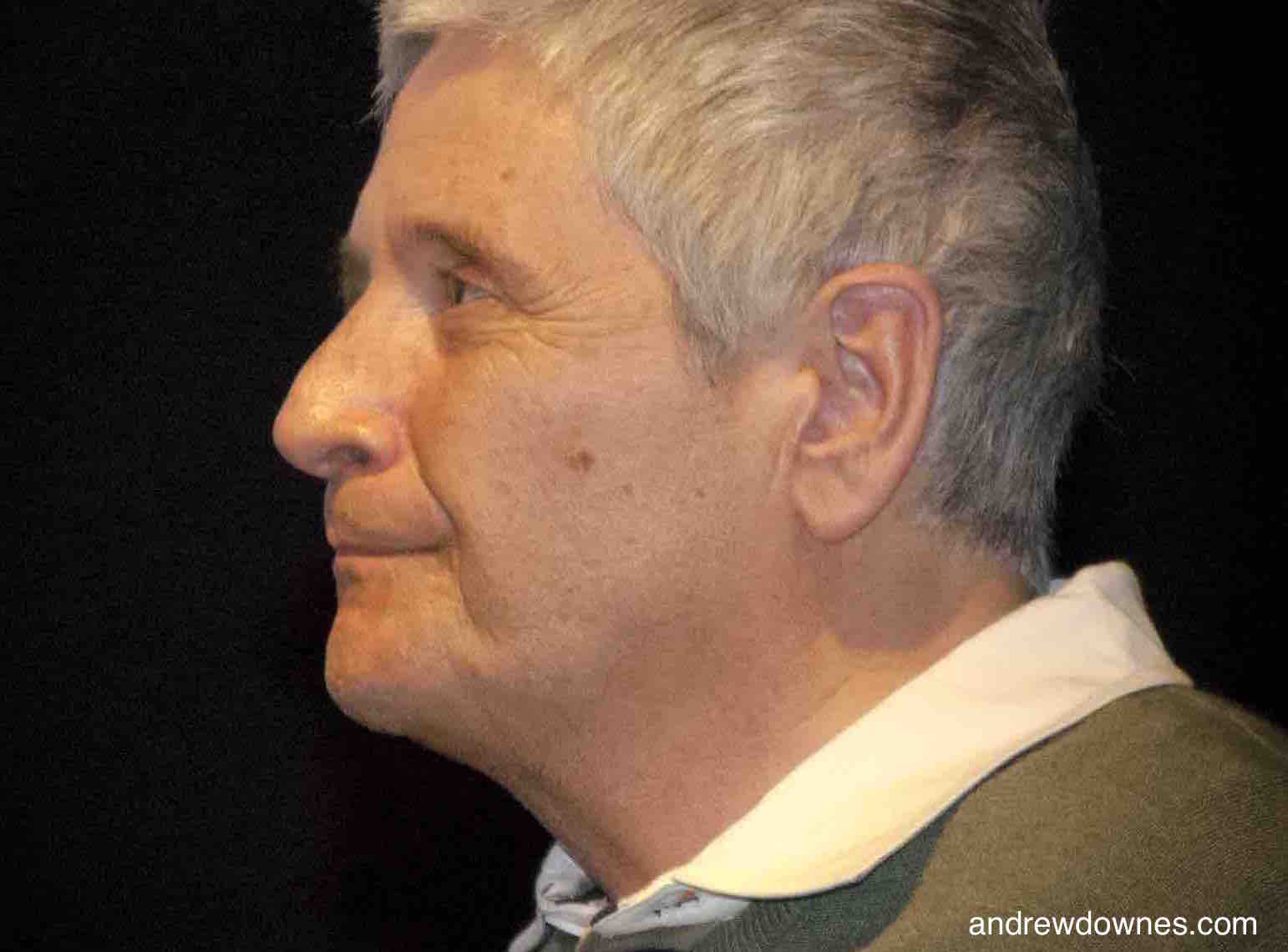 Andrew Downes was born in Handsworth, Birmingham, in 1950. He won a choral scholarship to St. John's College, Cambridge (in 1969), where he gained an MA degree specializing in composition; and in 1974 went on to study with Herbert Howells at the Royal College of Music. Between 1990 and 2005, he was Head of the School of Composition and Creative Studies at Birmingham Conservatoire and was awarded a Professorship in 1992. He now works as a freelance composer.

Andrew Downes' music has been performed throughout the world, in many leading concert halls and cathedrals, and has been broadcast at home and abroad. His early commissions included: The Marshes of Glynn, for the Royal Opening of the Adrian Boult Hall in Birmingham in 1986; an Overture for the 1986 Three Choirs Festival; an Anthem for Shakespeare Sunday; Song Cycles for Tenor, John Mitchinson and for Mezzo-Soprano, Sarah Walker, both for performance on BBC Radio 3; works for 'Cantamus' Girls' Choir, and for the BBC Radio 4 Daily Service; Centenary Firedances, for the City of Birmingham's Centenary Festival of Fireworks and Music; Sonata for 8 Horns for the University of New Mexico; Fanfare for Madam Speaker, for the Installation of the Rt Hon Betty Boothroyd MP as Chancellor of the Open University; and many more.

In January 1989 Andrew Downes visited Israel to attend a performance of his Sonata for Two Pianos by Bracha Eden and Alexander Tamir in the Israel Philharmonic Guest House. Eden and Tamir came to Birmingham in January 1990 to perform the work in a concert broadcast on BBC Radio 3.

In November 1993 Downes conducted the Crane Concert Choir in the University of New York's Hosmer Hall in a performance of his St Luke Passion. In 1994 he attended, at the Calcutta School of Music, a performance of his Sonata for Violin & Piano by Calcutta born violinist,
John Mayer; and he revisited India in February 1996 for performances by 'Birmingham Conservatoire Indo-Jazz Fusions' of his composition, Mela Kamavardhani, in Bombay, Calcutta and Delhi.

New York Metropolitan Opera Soloist, Stephanie Blythe, performed Andrew's Songs from Spoon River at the Tanglewood Festival in August 1994. A series of recordings of Downes' works was broadcast on Central Peking Radio in 1994 and the China Film Philharmonic Orchestra requested copies of several of his orchestral works, while in Japan Cantamus Girls' Choir gave performances of Piano by Andrew Downes during their 1994 concert tour.

In March 1995 Andrew was invited by the University of New Mexico to give talks and to attend the performances of several of his works, especially his Sonata for 8 Horns, commissioned by the University Horn Octet. In October and November 1995 he heard in Paris performances of his Sonata for Two Pianos by the Duo Scaramouche, including a performance on Radio France Musique. He was interviewed on Italian Television in March 1996 before a broadcast performance of his Sonata for Two Pianos by the Duo Scaramouche from Barletta.

In the Summer of 1996 he attended a performance of his Sonata for 8 Horns at the International Horn Convention in Oregon and the first performance of his Sonata for 8 Flutes at the National Flute Association's annual Convention in New York. This latter work has since been performed at numerous venues throughout the USA, Australia and Japan and also in Caracas by the National Flute Orchestra of Venezuela, as well as at a special Flute Day in Birmingham devoted to it, and twice at the Stratford International Flute Festival. In April 2004, the work was given its Mexican premiere by the Mexican Flute Ensemble conducted by Jenny Brooks in Mexico City.

Andrew Downes' Concert Overture, Towards a New Age, commissioned for the 150th anniversary of the Institution of Mechanical Engineers, was premiered in Symphony Hall, Birmingham, on 28th January 1997 by the Royal Philharmonic Orchestra, conducted by Andrew Constantine. Downes was awarded a commemorative gold medal by the Institution in recognition of his outstanding contribution to their celebrations.

In January 1998 Andrew made a trip to Vienna to hear his Sonata for 4 Horns performed by the Vienna Horn Society; and to Prague for a performance, in the Suk Hall of the 'Rudolfinum', of his Sonata for 8 Horns by the Horns of the Czech Philharmonic Orchestra. The Czech Philharmonic Horns played this Sonata again in Prague's Lichtenstein Palace in August 1998 and in the Suk Hall in December 2001; and they recorded the work for Czech Radio and for CD. The CD, entitled Czech Philharmonic Horns (Classic Print label), was awarded 5 stars and voted CD of the month September 2000 on Musicweb. It was broadcast on BBC Radio 3 in November 2000 and November 2001 and on Dutch Radio in 2003 and 2004.

The Choir of Trinity College, Cambridge performed Andrew's anthem, The Souls of the Righteous, in Trinity College Chapel in May 1999. In July 1999 members of the City of Birmingham Symphony Orchestra joined guitarists Simon Dinnegan and Fred T. Baker to record Andrew's Concerto for Guitar, Bass Guitar and Strings for CD which was released in January 2001 on the Classic Print Label.

In November 1999 Andrew attended the first performance of his Sonata for Flute and Piano given by Carol Kniebusch Noe with Vicki Berneking in the American Cathedral in Paris. In 2000 he visited Virginia and Boston USA for concerts entirely devoted to his flute music by the James Madison University Flute Choir and the Massachusetts High School Flute Choir. Both of these Flute choirs subsequently made CDs of Andrew's flute music.
For the new millennium, commissions included: an Oratorio, New Dawn, performed by soloists, choir and full symphony orchestra (including guitar ensemble) at Birmingham Conservatoire on 18th February 2000 (subsequent performances include one in 2001 in Kings Chapel, Cambridge, conducted by Stephen Cleobury); Song of the Eagle for the James Madison University Flute Choir of Virginia, USA, directed by Carol Kniebusch Noe, to celebrate their 25th anniversary and which they recorded in January 2000 for their CD devoted to Andrew's flute music; a special Evensong Service, performed at Royal Holloway (University of London) by the Chapel Choir, conducted by Lionel Pike, on St Cecilia's Day, and recorded for CD in January 2001 by the choir; and Sonata for 8 Pianists, premiered in the Adrian Boult Hall, Birmingham, on Wednesday 6th December 2000 by pianists from France, Italy, and Britain.
The Czech Philharmonic Brass Sextet gave the first performance of Andrew's Sonata for Brass Sextet in the Dvorak Hall, Prague, in February 2001. Andrew's Concerto for 4 Horns and Orchestra, for the Czech Philharmonic Orchestra, was first performed in the Dvorak Hall, Prague, on 28th February and 1st March 2002, and recorded by Czech Radio for broadcast during Summer 2003. His Piano Sonata no 2, commissioned by Duncan Honeybourne was first performed by Duncan at the National Gallery, Dublin, in March 2003. Andrew's Five Dramatic Pieces for 8 Wagner Tubas, for the Czech Philharmonic Horns, was premiered at the Dvorak Hall, Prague on October 18th 2005, and is now recorded by the Czech Philharmonic Horns on the Czech Philharmonic ArteSmon label.

Other 21st Century works comprise: Songs of Autumn and Songs of the Skies (both commissioned by Symphony Hall Birmingham, and premiered in 2003 and 2005 respectively with 1200 children and players from the City of Birmingham Symphony Orchestra and the Central England Ensemble); Songs of Love for Paula Downes and David Trippett, (world premiere at University Hall, Harvard University, Cambridge, Massachusetts, USA, on February 1st 2007); Sonata for Organ (premiered by Robert Green at St David's Cathedral, Pembrokeshire, Wales, on August 22nd 2007); the opera, Far from the Madding Crowd, premiered at the Thomas Hardy Festival in July 2006; Mass for Unaccompanied Solo Voice, premiered by soprano Paula Downes at the MIT Chapel, Boston, Massachusetts, USA, on March 6th 2008; Sonata for Violin, Horn and Piano for the Brahms Trio Prague (Monica Vrabcova, violin; Ondrej Vrabec, [principal Horn Czech Philharmonic Orchestra] and Daniel Wiesner, piano), premiered at the Suk Hall, Rudolfinum, Prague, on February 5th 2008 and recorded for CD by the Trio on the Czech Philharmonic Artesmon label; Finished Fields for bass-baritone Jonathan Pugsley and pianist Duncan Honeybourne, premiered in November 2008; Concerto for Piano and Orchestra, premiered by Duncan Honeybourne and the Central England Ensemble, conducted by Anthony Bradbury, in Birmingham Town Hall on March 1 2009, and performed again by the same artists in Coventry Cathedral in June 2010; Sonata for Contrabass Flute and Piano for Peter Sheridan, premiered in 2009 in Melbourne, Victoria, Australia; and Sonata for Clarinet and Piano for Angus Merion (clarinet) and Duncan Honeybourne (piano), premiered in Salisbury, UK on 2nd January 2010.
More recent works include Concerto for Horn and Symphony Orchestra for Ondrej Vrabec (Principal Horn Czech Philharmonic Orchestra) and the Central England Ensemble, premiered at Birmingham Town Hall in October 2012; Jubilate, commissioned by the Callington Singers to celebrate the 30th anniversary of their foundation, and premiered in Menheniot, Cornwall, on October 26th 2013; The Ballad of St Kenelm, commissioned by the Francis Brett Young Society and premiered in 3 Worcestershire Festivals in 2015; Butterfly, commissioned by Cantamus, in memory of their late conductor, Pamela Cook MBE.
In 2015, 4 symphonies and 2 overtures by Andrew Downes were recorded in the Dvorak Hall of the Rudolfinum, Prague, Czech Republic, by the Czech Philharmonic Orchestra, directed by Ondrej Vrabec, as part of a 2 CDs set of symphonic music by Andrew Downes, on the Artesmon label. The set of 2 CDs and one Documentary DVD were launched in the Suk Hall of the Rudolfinum, Prague, on 1st December 2015. The CDs were launched on iTunes on March 18th 2016. The UK launch, organised by Czech Music Direct, took place on 17th April 2016 at the National Film Theatre, London, where excerpts were played and the Documentary DVD was shown, together with Paula Downes' films portraying Andrew Downes' Songs from Spoon River and also an excerpt from the DVD of Andrew Downes' opera, Far from the Madding Crowd.

Andrew Downes' compositions over the last few years include: 7 Preludes for Piano for Duncan Honeybourne, who recorded this work on his CD of Andrew Downes' piano music in 2016.  For Paula Downes (soprano) with Anna Downes (violin), Cynthia Downes (viola) and Tony Bridgewater (piano) he composed The Four Songs of Bluebeard's Wife, settings of poetry by Julie Boden; The Door of Winter, settings of poetry by Bernard Davies and 2 Shakespeare Songs, which have now received numerous performances.  He has most recently composed a Concerto for Recorder and String Orchestra for blind recorder player, James Risdon, premiered in December 2019 with the Czech Virtuosi in the Spanish Hall of Prague Castle, Czech Republic, under the baton of Ondrej Vrabec.  Andrew has recently completed his Symphony No.6, scored for large Chamber Ensemble, for the Central England Camerata, to be premiered in Hagley Hall, Worcestershire, in October 2020, in celebration of Andrew's 70th Birthday. 

Andrew is at present working on a violin concerto for Rupert Marshall-Luck, who in 2017 made a CD of Andrew Downes' violin music with accompanist, Duncan Honeybourne.

Faber Music include Andrew Downes' motet O Vos Omnes in their compilation entitled Thirty Choral Masterworks for Upper Voices. Downes' organ prelude The Forest at Dawn is published in the Millennium Organ Book by the Incorporated Society of Organists. All of Andrew Downes' other works are published by Lynwood Music, founded in 1978 by his wife, Cynthia, and managed by her ever since.  

Andrew Downes is a Life Fellow of the RSA and of the International Biographical Association, Honorary Fellow of Birmingham Conservatoire, President of the Central Composers' Alliance and Leading Patron of the Midland Chamber Players. In 2014, he was made Emeritus Professor of Birmingham City University for carrying out his work at Birmingham Conservatoire 'with distinction'.
If you have performed in any of Andrew Downes' works or come to listen, please share your experiences in the Premieres Blog! Also see what others have said. Thank you so much for your contribution.