Andrew Downes' Uncle: Violist Herbert Downes
Herbert Downes, violist in the Philharmonia Quartet (right)



Andrew Downes' Uncle, (his father Frank's older brother), Herbert James Downes, known to most people as Bert, was born July 15 1909 and died December 21 2004.
He was principal viola of the Philharmonia Orchestra from 1945 to 1974 and a member of the Philharmonia Quartet. The great violist, Lionel Tertis, acknowledged him as "that splendid soloist".



Herbert Downes - Obituary, The Guardian by Tully Potter

Born in Walsall, Staffordshire, Downes, who has died aged 95, was one of 11 children, with little money coming in from his father's leather and boot business. After a bout of polio, Bert was in and out of hospital for years, and was left with a limp; he did not start school until he was seven. At 10 he began playing the violin at school, and at 12 went to a local teacher, Arthur Hytch: "My first lessons cost 1s 6d a time. Hytch taught me violin, fly-fishing and a little about the stock market." (Later, Downes would go fishing between morning and evening Philharmonia sessions.) Though Downes was to study privately with Paul Beard in Birmingham and Carl Flesch in London, he owed much to Hytch, who asked him to play the viola in his string quartet.

Playing in the picture houses and at a cafe was followed by membership of the second violins of the Lozells Orchestra, which gave regular broadcasts. At 18, Downes was a violinist in the part-time City of Birmingham Orchestra (CBO) - later he turned out for the BBC Midland Orchestra, too, and in the summer played at Scarborough. 

By 1931, he was violist in the Henry Holst Quartet. He studied scores with CBO conductor Leslie Heward, experience he put to good use with the semi-amateur orchestra he conducted in Walsall. From 1935, he led his own quartet, while continuing in the orchestra as number three in the first violins. Acting as best man at his colleague Ernest Element's wedding led to marriage to the bride's sister: in March this year Betty and Bert would have been married for 70 years, and he is also survived by their three daughters. 

Unfit for war service, Downes worked as an air raid warden, then, in 1940, moved to the BBC Scottish Orchestra in Glasgow and thence to the Liverpool Philharmonic, Britain's finest wartime orchestra, as principal viola. Out of the "Phil" arose the Philharmonia Quartet - Holst, Element, Downes and Anthony Pini - and Downes was one of three members who went into the Philharmonia Orchestra as principals on the London orchestra's foundation. 

In 1947, the foursome premiered Walton's Quartet at the Prague Spring festival. The quartet continued until 1952, and the following year Downes played in the Coronation orchestra. 

Sitting right in front of the Philharmonia's conductors, Downes had a closer rapport with them than most. Once he felt impelled to say, "Dr Klemperer, your flies are undone," which brought the reply, "But vat has zat to do viz Beethoven?" One day Carlo Maria Giulini, discussing bowings, innocently said: "Let's have three downs there." And the entire Philharmonia chorused: "One Downes is enough!"

Sometimes Downes conducted so that the maestro of the day could judge the sound from the back of the hall. He gave occasional recitals, and played 16 viola concertos - his favourite was the Walton, and Benjamin Frankel's (1967) was dedicated to him. In Richard Strauss's Don Quixote, Downes took the role of Sancho Panza to the great cellists of the age, notably Jacqueline du Pré on disc, Paul Tortelier on BBC television, and Mstislav Rostropovich. A collector of instruments and bows, Downes eventually played a magnificent 1560 Gasparo da Salò instrument. 

Read more at The Guardian

Also read his obituary in The Times




Video & Photos

Watch Herbert Downes lead the violas in this performance of Stravinsky's Firebird Suite conducted by Stravinsky himself with the Philharmonia Orchestra, Royal Festival Hall, 1965.
Herbert Downes, Principal Violist, Philharmonia Orchestra under Herbert von Karajan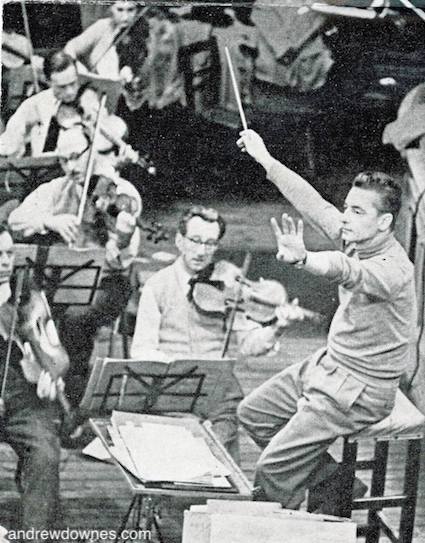 1952, when Toscanini (front right) conducted the Philharmonia in a series of Brahms concerts. Next to him is his protege, Italian conductor Guido Cantelli who tragically died in a plane crash at the age of 36 on 24 November 1956. Between them is Herbert Downes; on the extreme right, Manoug Parikian, leader of the Philharmonia. Bert apparently told Andrew Downes what an absolutely amazing conductor Cantelli was, and what a tragic loss to the world of music he was.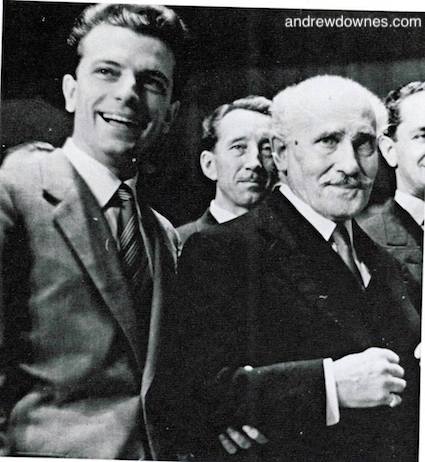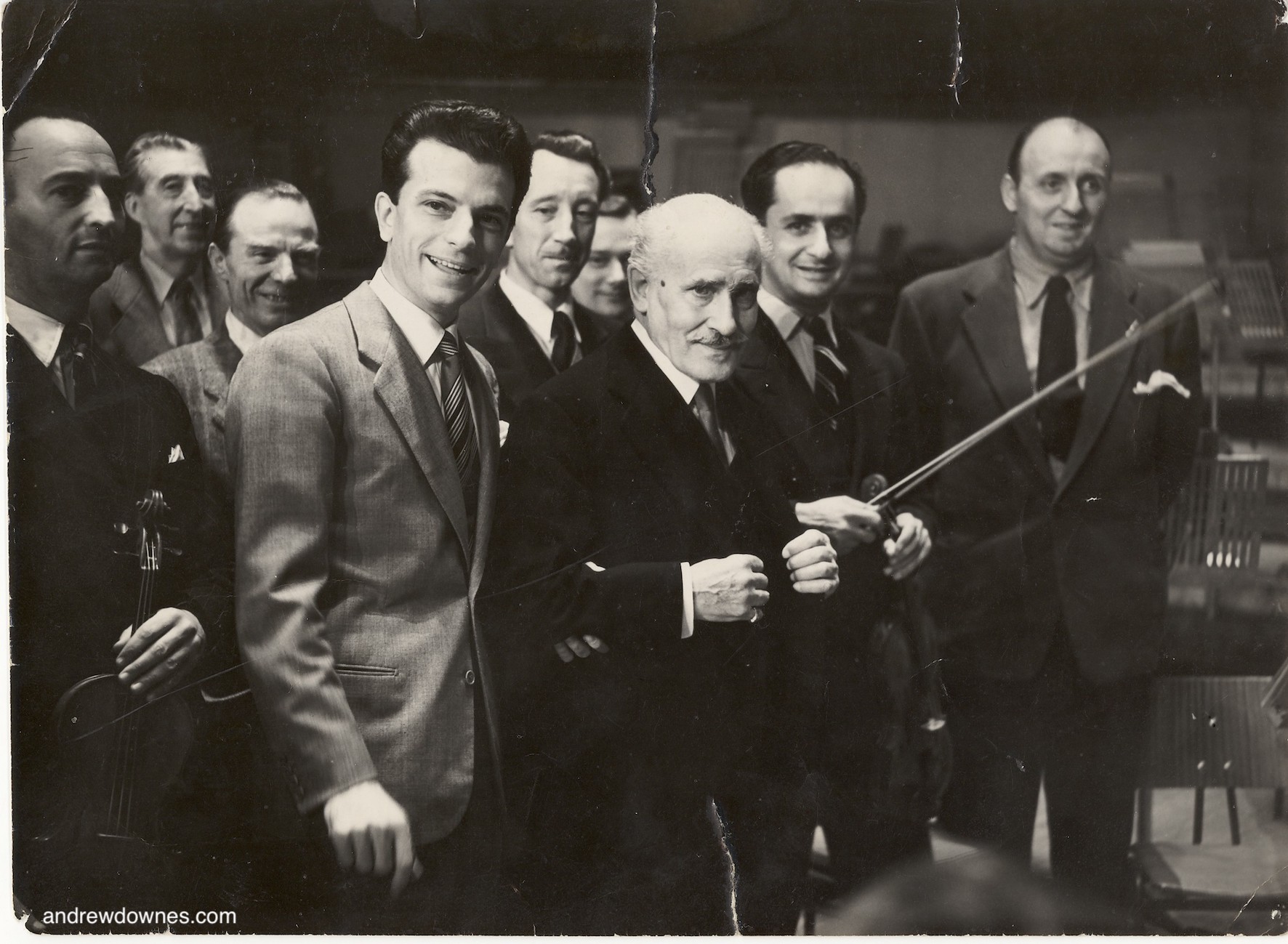 Herbert Downes (second row, 5th from left, just behind Cynthia, to the left) at Andrew and Cynthia Downes' wedding, August 9th, 1975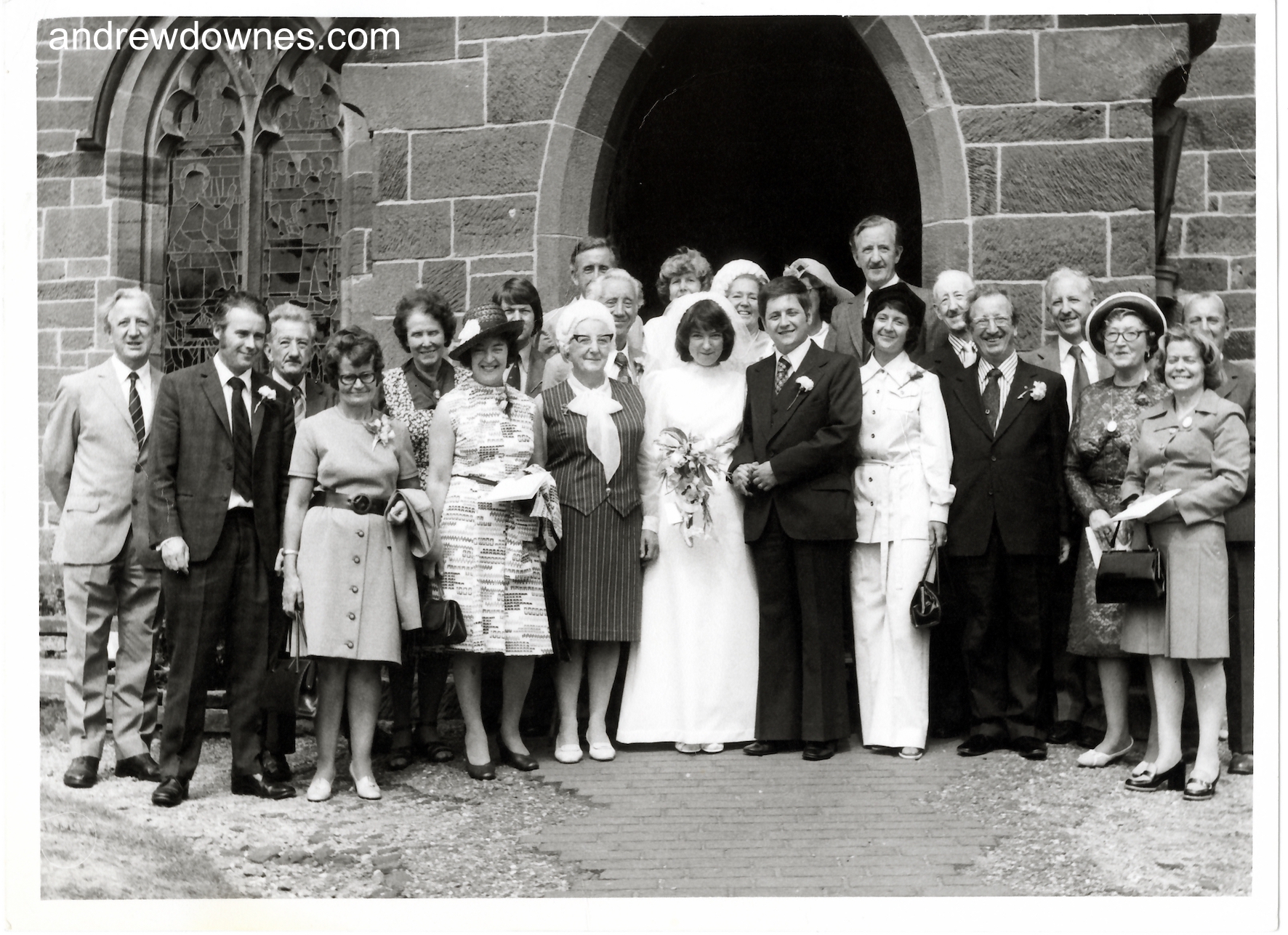 Herbert Downes, playing a new viola made for him at his home in Exmouth, October 1986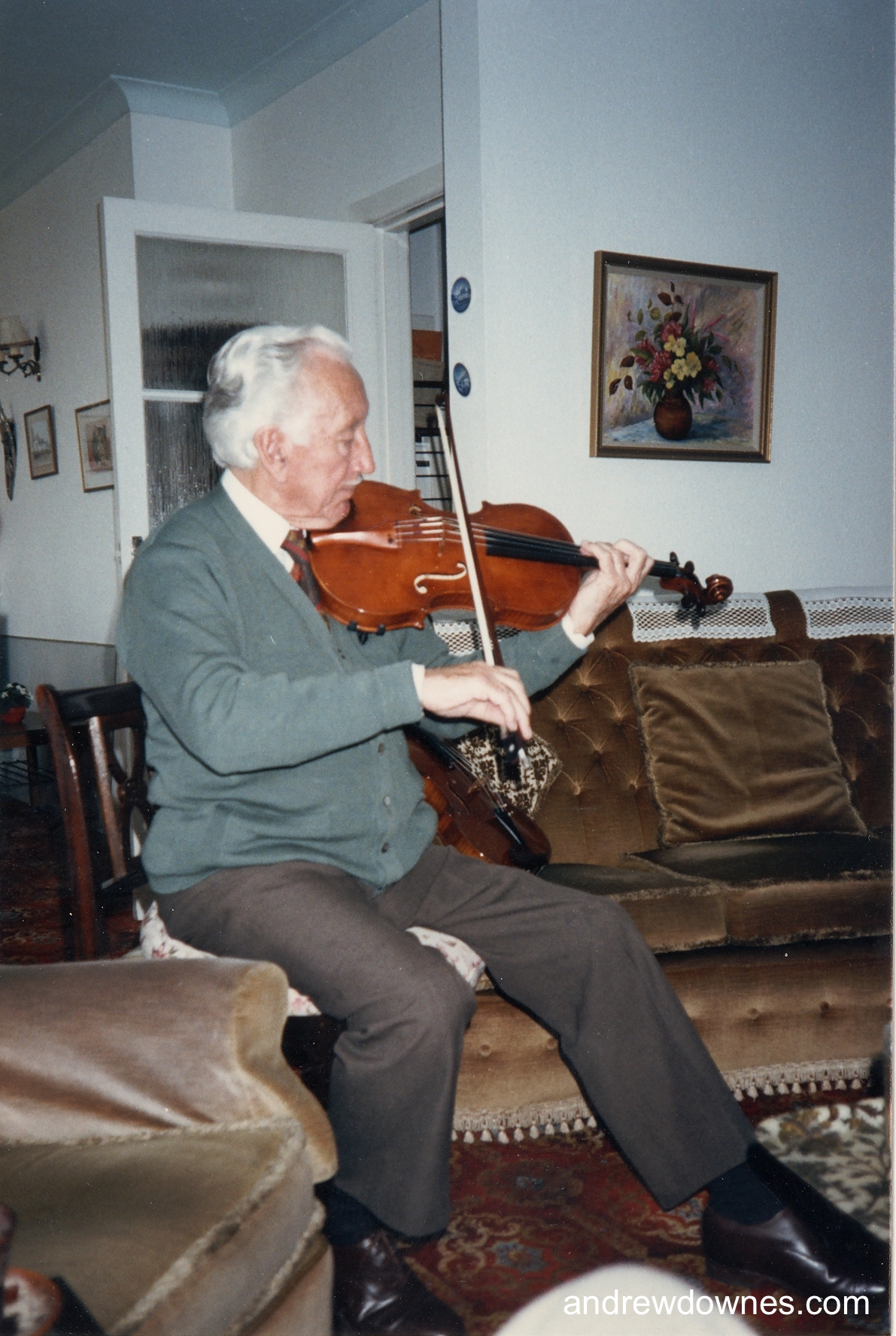 Brothers Len, Arthur, Frank, Herbert (Bert) Downes at their sister Nell's 50th Wedding Anniversary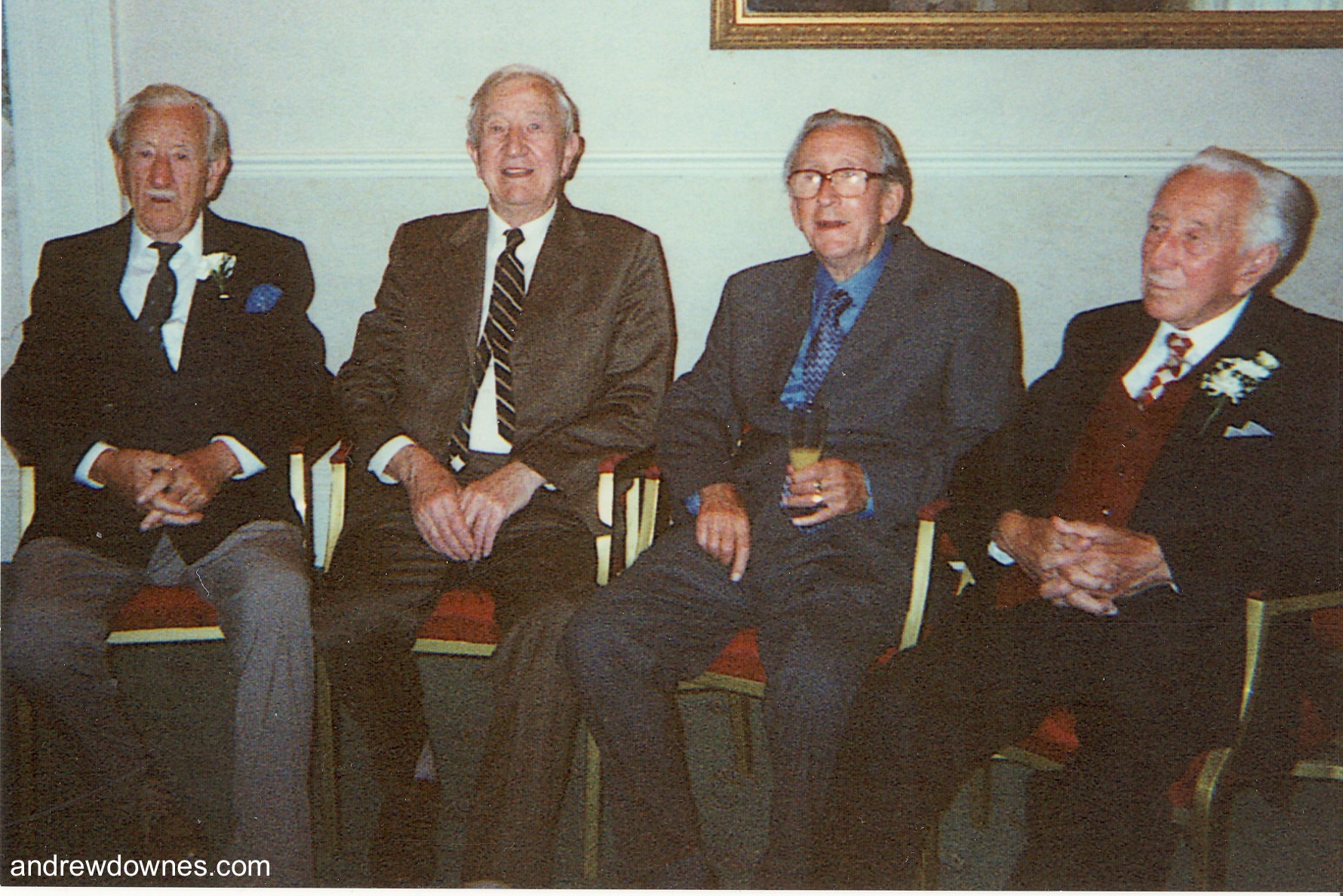 Herbert Downes at his home in Exmouth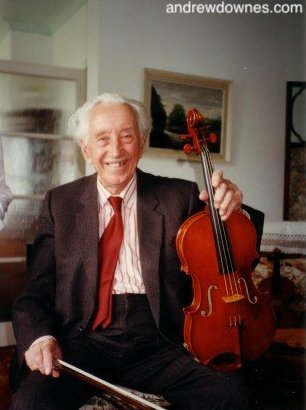 Recordings of Herbert Downes

Music for Viola & Cello Played by **Herbert Downes** and Jacqueline Du Pre - HMV 1499 stereo UK LP released in 1963
Remastered in 2017 by The Electric Recording Co.
11 tracks in all with various instrumental accompaniments including Gerald Moore.

Although this disc is most famous for being Jacqueline Du Pre's debut cello recital, we should certainly not bypass the marvellous contribution from the distinguished artist Herbert Downes. Born in 1909 Downes began playing the violin at the age of 10, before going on to study under both Paul Beard and the legendary Carl Flesch.  He was a founder member of the famous Philharmonia Quartet in England along with Henry Holst, Ernest Element and Anthony Pini.  Downes' initial instrument of choice was the violin, but he later became more well known for his playing of the Viola. As an avid collector of instruments and bows he eventually acquired and played a 1560 Gasparo da Salò. These short works contained on the A Side of this superb disc showcase Downes skills an expert chamber music player of immense talent. https://snvinyl.co.uk

Elegy, Op. 15 for Viola, String Quartet and Strings by Herbert HowellsHerbert Howells

**Herbert Downes - solo viola**
String Quartet: Desmond Bradley, Gillian Eastwood, Albert Cayzer, Norman Jones, New Philharmonia Orchestra, Sir Adrian Boult

2 Gesänge, Op. 91: II from Geistliches Wiegenlied by Brahms
Mezzo-soprano: Christa Ludwig
Piano: Geoffrey Parsons
**Viola: Herbert Downes** 
The Complete Recitals on Warner Classics ℗ 1967 Parlophone Records Limited. Remastered ℗ 2018 Parlophone Records Limited, a Warner Music Group Company 


Peter Racine Fricker: Viola Concerto, Op. 18 (1953).
Conducted by Rudolf Schwarz. BBC Symphony Orchestra. **Herbert Downes, viola** [radio broadcast from 1958].




Richard Strauss: Don Quixote - Fantastic Variations on a Knightly Theme, Op.35  
Violoncello: Jacqueline Du Pré
Conductor: Sir Adrian Boult

**Viola: Herbert Downes** 
Violin: Desmond Bradley 


New Philharmonia Orchestra
℗ 1995 Warner Classics, Warner Music UK Ltd 



The notes tell the story of how this air-check of a rehearsal came about. Du Pre was scheduled to play Don Quixote under Klemperer, who became ill. Boult stepped in, and as the rehearsal began, an engineer thought to turn on the tape recorder in the control booth. As it happens, Du Pre never made a commerical recording of the work, and in the CD era this unreleased performance finally saw the light of day. So far as the orchestral part goes, Boult leads a generally brisk reading with lots of colorful inner detail, caught beautifully by the microphones--you won't detect in any way that this is not a real performance. And Du Pre herself plays with total commitment, apparently the only way she knew how. She is close to the mic, so her intensely expressive tone is captured well. She has a more soulful, rhapsodic view of the music than Boult, but he adapts immediately. For her ability to convey emotion and in this case to tell a story, Du Pre has no equal. Every bar says something new about the fantastic Don and his moody adventures. Not every bar is perfectly in tune, but I didn't care. This is a Don Quixote to dream along with and wipe away a tear over. For sheer spontaneity, it's one of a kind. (

duPre78501 youtube user)


Back to About Andrew Downes
If you have performed in any of Andrew Downes' works or come to listen, please share your experiences in the Premieres Blog! Also see what others have said. Thank you so much for your contribution.