Andrew Downes' Birmingham Library talk before the premiere of his Oboe Sonata in 1995

If you have performed in any of Andrew Downes' works or come to listen, please share your experiences in the Premieres Blog! Also see what others have said. Thank you so much for your contribution.

The composer talked about the multicultural influences on his compositions before the premiere of his Idyll: In the Gardens of Burdwan - Sonata for Oboe and Piano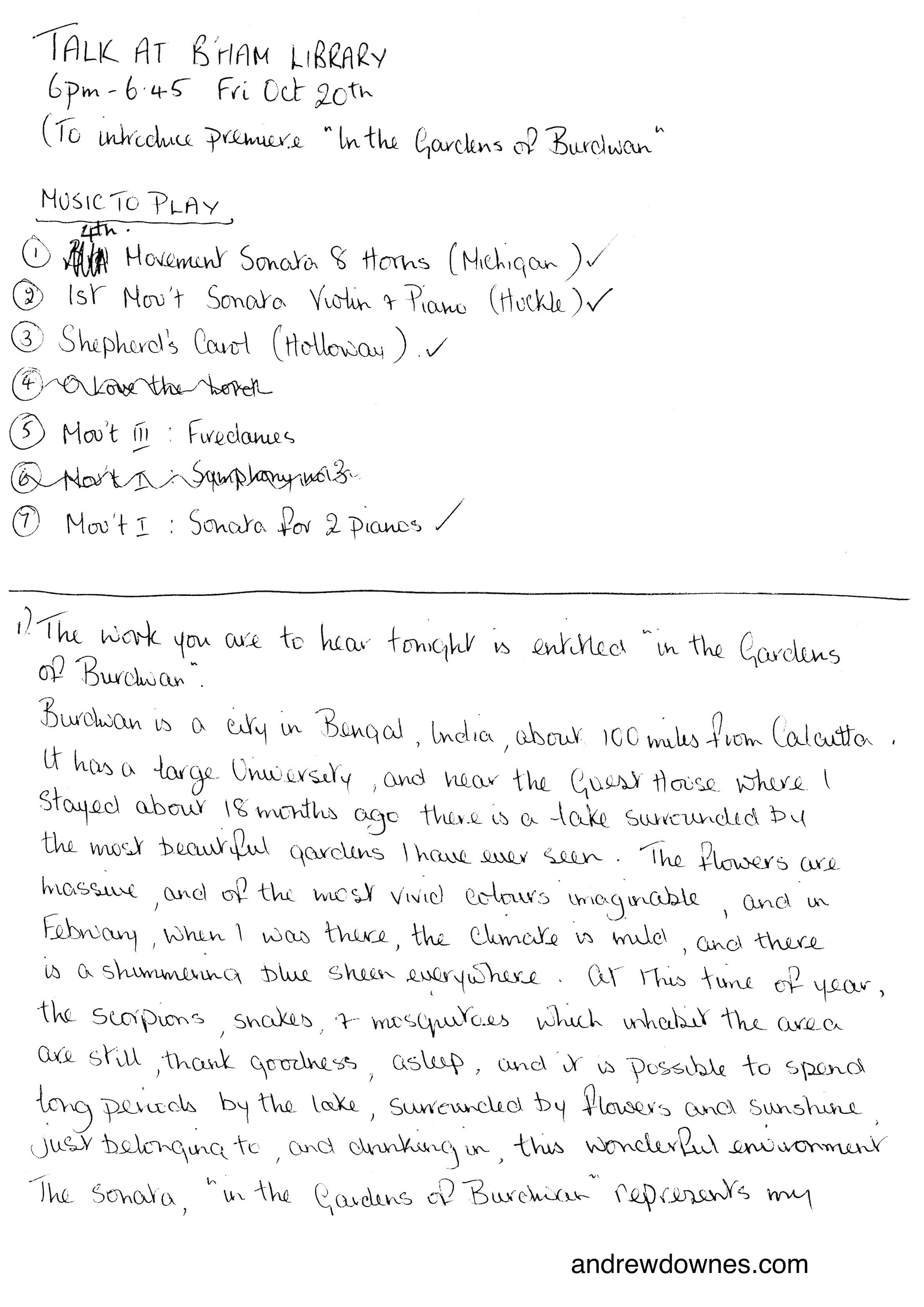 A sample of Andrew's handwritten talk


[Here is the typed-up version of Andrew's handwritten notes:]

1) The work you are to hear tonight is entitled "In the Gardens of Burdwan". Burdwan is a city in Bengal, India, about 100 miles from Calcutta. It has a large University, and near the Guest House where I stayed about 18 months ago there is a lake surrounded by the most beautiful gardens I have ever seen. The flowers are massive, and of the most vivid colours imaginable, and in February, when I was there, the climate is mild, and there is a shimmering blue sheen everywhere. At this time of year, the scorpions, snakes, and mosquitoes which inhabit the area are still, thank goodness, asleep, and it is possible to spend long periods by the lake, surrounded by flowers and sunshine, just belonging to, and drinking in, this wonderful environment. The Sonata, "In the Gardens of Burdwan" represents my emotional response to this wonderful wholesome place. It contains, as do many of the recent pieces, references to musical idioms and styles of the country to which it refers, and if you read the programme note you will find a description of these aspects of the work, together with my attempt to outline its 4 movement structure. As this is a premiere, I don't want to spoil its impact by playing any of its music, but what I will do is play and talk about some of my recent pieces which stylistically are linked to the Oboe Sonata.

Read Andrew Downes' Diary of a trip to India


The Gardens of Burdwan, India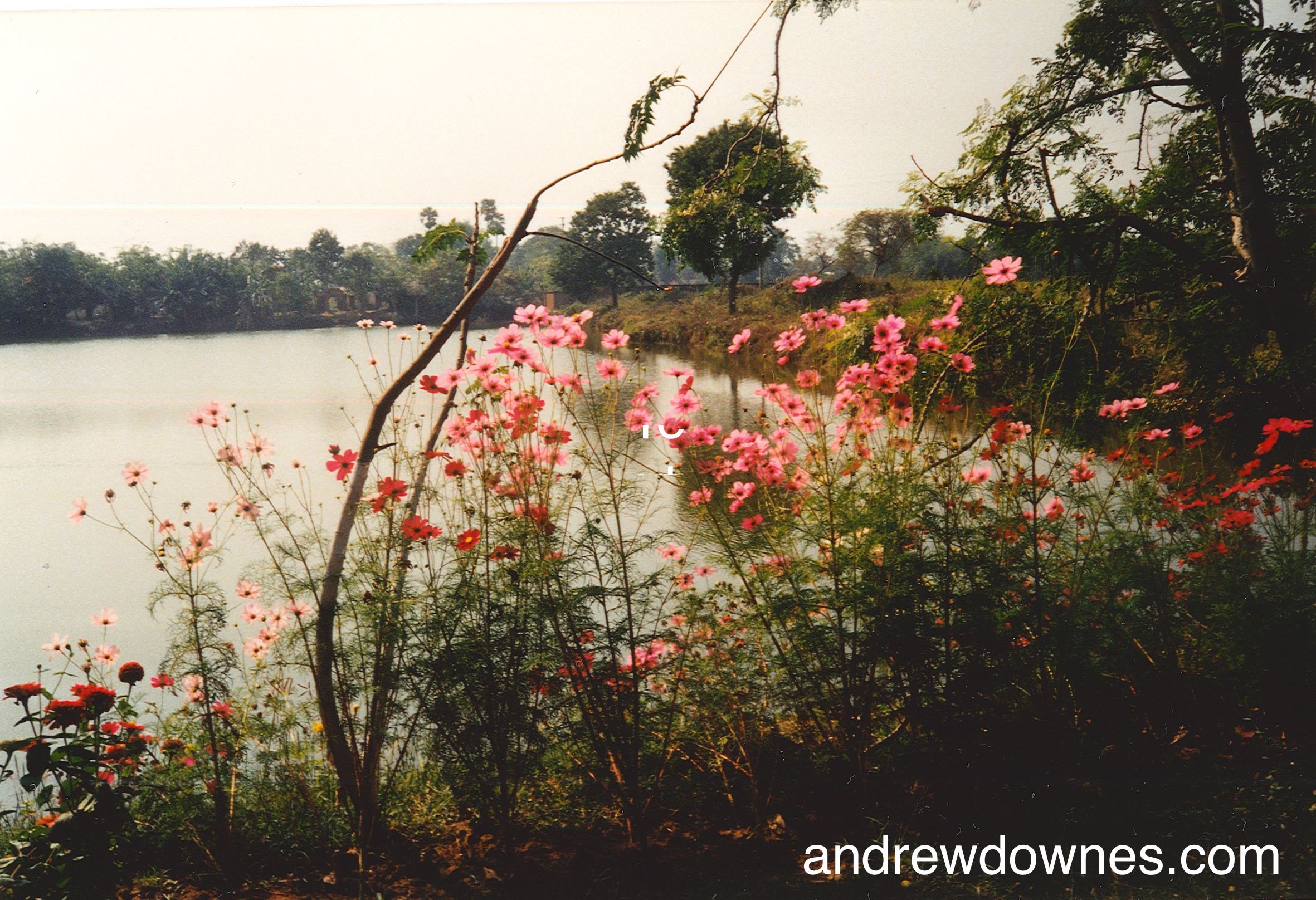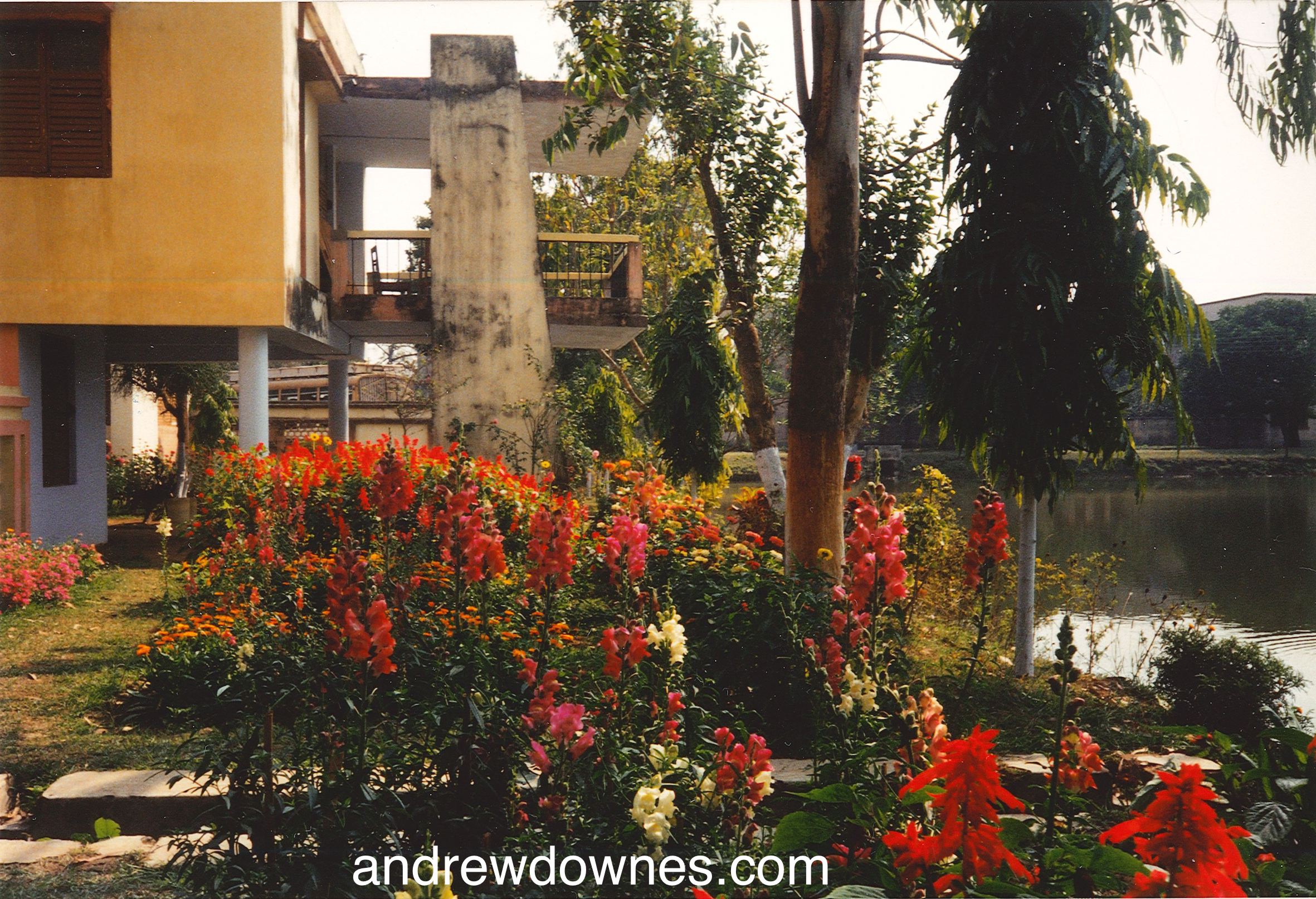 The Gardens of Burdwan, India


2) I went to India with the Calcutta born composer, John Mayer, and as well as being a delightful character and superb composer, John is a wonderful violinist. We visited the Calcutta School of Music, and whilst there, John performed my Sonata for Violin and Piano with his wife Gillian as accompanist. 

Read Andrew Downes' Diary of a trip to India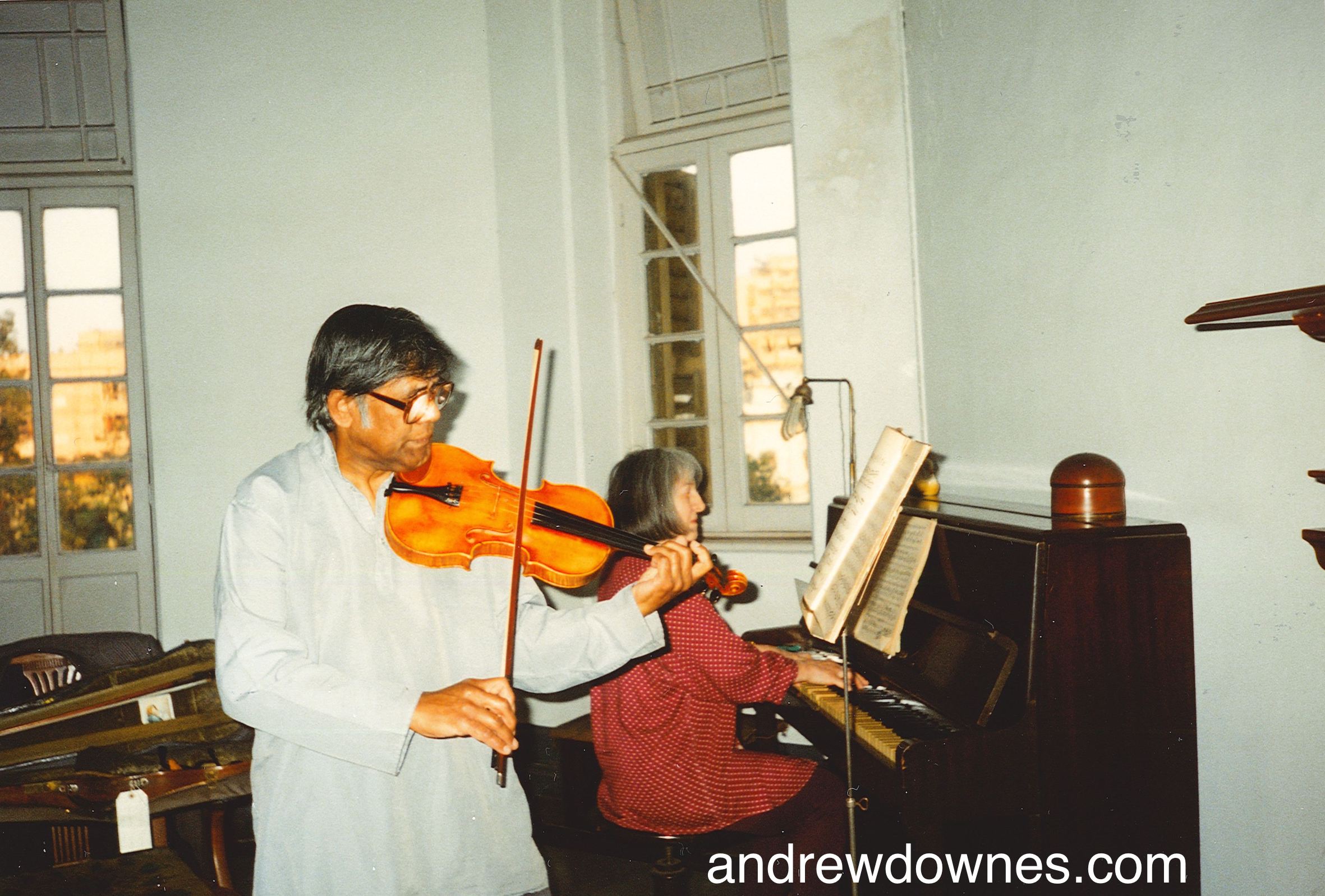 John Mayer, Violin, Gillian Mayer, Piano


Many people in the audience commented on the "Indianness" of much of the music … technically speaking, this is probably because the Sonata uses a predominance of the "Lydian Mode" (sing F-F) which has much in common with the structure of the Indian Raga Yaman.



The Sonata was in fact, written for and first performed in Birmingham by Roger Huckle and John Bishop, and this superb duo are shortly to make a CD of it. I'll play their performance of the 1st movement. [Here it is played by his daughter, Anna Downes with pianist Tony Bridgewater.]
---


3) You may by now have gathered that I am quite besotted by the music of other cultures. On the 18th December this year, at 1pm in Birmingham Cathedral, you'll be able to hear a performance of my "Ballads for Christmas", written a few years ago for the Hillcrest School Chamber Choir and the CBSO harpist, Robert Johnston. These same people will be performing again in December. 

Hillcrest School Chamber Choir, Director Valerie Pither, Harp Robert Johnston


This work is in fact a collection of 8 carols using texts from different parts of the world including an Eskimo poem, a Canadian Huron poem, and a Mexican poem. The one I'm going to play, however, the "Shepherd's Carol" has a text by William Morris, and its musical influences are, I think, very English.

This performance is from a shortly to be released CD by the Chapel Choir of Royal Holloway College, conducted by De Lionel Pike. On this occasion it is accompanied by organ rather than harp. [Here it is sung and animated by his daughter, Paula Downes in a multitrack recording with harpist Rita Schindler.] 



4) A week ago today, I attended a performance in Paris of my "Sonata for 2 Pianos" by the celebrated Parisian duo, "Duo Scaramouche". This duo will again perform the piece next Thursday, October 26th, at 7.30 in the Adrian Boult Hall here in Birmingham, and then on November 17th I will again be going to Paris to attend a live broadcast of the piece on 'France Musique', the French equivalent of BBC Radio 3. This work again is influenced by the music of other cultures. It was commissioned in 1989 by the International Society for Soviet Jewry, and first performed here in Birmingham by Joseph Weingarten and Margaret Newman. It was then performed in Tel Aviv, Israel, Bracha Eden and Alexander Tamir in a concert shared with members of the Israel Philharmonic Orchestra. Shortly after that, Bracha and Alex came to the UK, and broadcast the piece on Radio 3.
The reason I'm telling you all this is because once again the music is strongly influenced by the idioms of the culture from which it sprang. You will find that the modes and scales used in this first movement, which I am about to play, are linked to the deep and sad melodic flow and structure found often in traditional Jewish music. This recording is from the first performance by Joseph Weingarten and Margaret Newman.


5) One of my most recent compositions, the Sonata for 8 Horns, was commissioned by the University of New Mexico in Albuquerque, USA, and first performed there last March in a Composition Symposium featuring British composers Nicholas Maw and myself. The work has since been performed in Michigan, and will be done next June at the International Horn Convention in Oregon. You will be able to hear it on December 5th at 7.30 in the Adrian Boult Hall in a concert featuring Birmingham Conservatoire Horn Octet conducted by Stephen Lloyd. This will be part of the Conservatoire's Music Xtra Festival.
This Sonata for 8 Horns is in five movements, and the music is optimistic and warm in character, perhaps influenced by the young, somewhat brash and jazzy character of much American culture, whether white, black or native. I'm going to play the 4th movement, and this is from the performance last August in Michigan. (mention a few slips … extremely difficult to play horn without … only Denis Brain never reputed "fluffed a note"). [Here it is performed by the horns of the Czech Philharmonic Orchestra.] 


6) My final excerpt, again displaying influence from a whole variety of musical cultures, is the 3rd movement of my Centenary Firedances. It was commissioned by the City of Birmingham to celebrate the centenary, in 1989, of Birmingham becoming a city. It was premiered in June 1989 in Cannon Hill Park at the first Fireworks Fantastia, and was accompanied by a superb fireworks display. It has since been done 3 times at the same event to audiences ranging from 30,000 to 80,000.
Each of the five movements contains influences from a different cultural group represented within the city. For example, the first and last are strongly influenced by African and Caribbean music, whilst this, the third movement, has the flavor of an Irish dance, and features the Irish folk drum, the Bodhran. It is performed here by the Birmingham Conservatoire Symphony Orchestra, conductor Jonathan Del Mar.